FANTASIA – Nightmare Cinema's Weird, Wonderful, And Warped World Premiere
NIGHTMARE CINEMA
DIRECTORS: Alejandro Brugués, Joe Dante, Mick Garris, Ryuhei Kitamura, David Slade
WRITERS: Sandra Becerril, Alejandro Brugués, Lawrence C. Connolly, Mick Garris, Richard Christian Matheson, David Slade
CAST: Maurice Benard, Richard Chamberlain, Annabeth Gish, Elizabeth Reaser, Mickey Rourke
Five different people find themselves trapped in a creepy, old movie theatre seeing frightening events happen to themselves upon the screen… NIGHTMARE CINEMA is a clever and very fun anthology from five veritable masters of horror, and Montreal experienced its World Premiere!
Produced (and in part directed) by MICK GARRIS (of the classic MASTERS OF HORROR television anthology) and also featuring the immense talent of JOE DANTE (GREMLINS), ALEJANDRO BRUGUES (JUAN OF THE DEAD), RYUHEI KITAMURA (MIDNIGHT MEAT TRAIN), and DAVID SLADE (BLACK MIRROR), this tale of tales has something for everyone.
Every good horror anthology (of which they're are several at this month's Fantasia) captures every emotion possible and vary the gamut of weird, wonderful, and warped… and NIGHTMARE CINEMA  does all of that and more. You get the ridiculous to the absolutely spine-tingling to the downright shocking.
The first segment is hilariously handled by Argentinian ALEJANDRO BRUGUES and starts off everything with a multi-genre bang. THE THING IN THE WOODS is a pitch perfect and gut busting ode to the slasher films, and 80s horror in general . Featuring a mask wearing / blowtorch wielding killer, The Welder, this segment is not short on kills or screams, and utterly left the sold out FANTASIA crowd in absolute hysterics. It's essentially the third act of a slasher (aka the good stuff) and totally evolves into more clever genre bending. It has jaw dropping FX and tonnes of squeamish gore. It's totally something you want to to see more of, and lovingly features every woodsy murder trope and then some. This is how you do the horror – comedy genre right. In fact, many in the audience (myself included) initially thought this was a JOE DANTE segment, due to the comic tone and finesse, which is rather appropriate considering that BRUGUES mentioned the following day (on the live taping of the POST MORTEM with MICK GARRIS podcast) that he got into horror-comedy via DANTE'S films.
On the topic of JOE DANTE'S work, the legendary director actually received a FANTASIA lifetime achievement award to the thunderous applause and standing ovations of the packed auditorium, mere minutes before the world premiere of NIGHTMARE CINEMA.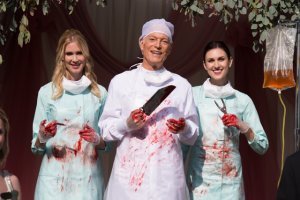 His segment, MIRARI, shows why he's one of the best. No stranger to anthology films, DANTE brings us this eerie, satirical tale of plastic surgery, vanity, pleasing others, and the lengths people will go to feel comfortable in their outer skin. This one has a heavy Tales from the Crypt and Twilight Zone vibes to it, as well as creeptastic fx work to go along with its thrilling tone, which is extra impressive considering most of it takes place in one hospital setting! The retired RICHARD CHAMBERLAIN (SHOGUN) adds a touch of class, as the quirky surgeon… with just the right amount of sinister feels. Tense as hell, and very biting, this one delivers the ick factor with perfect pacing.
The third segment showcases Japan's RYUHEI KITAMURA as he brings the goriest segment of the bunch, breaking all kinds of taboos from the getgo, featuring dead kids, perverted clergy, and a vengeful demonic entity. The most expensive entry in the collection, and the bloodiest, MASHIT, features an epic climax in a church that pleases any horror hound or hack & slash enthusiast. It feels like an 80s italian horror film, and it rather appropriately has a very Italian horror prog rock sounding score. This segment drove the crowd wild and has a weird juxtaposition of serious, dark subject matter and over-the-top gore. The post-production cleanup job in that actual church (the same church used in JOHN CARPENTER'S THE FOG) was apparently very intense and very time consuming. When you see the segment you'll understand why.
UK'S DAVID SLADE (who's shooting another upcoming BLACK MIRROR episode) brings us THIS WAY TO EGRESS, a surreal adaptation of a short story about a mother's slow descent into madness. This short was shot in stark Black & White, mostly because SLADE fell in love with the look during his BLACK MIRROR episode METALHEAD. This trippy segment is utterly haunting and quite disturbing. It feels like a Lynchian night terror full of walls coated in disgusting blood (or god knows what) and constantly mutating faces of the gruesome kind. You get some of that dark dreamlike feels that SLADE brought to HANNIBAL, but this one definitely feels a whole lot grimier and gut-wrenching. Powerful performances and wonderful FX. It's easily the most disturbing offering of the anthology, almost Lovecratian, with nightmare-fuel visuals and a bleak tone that stick with you for awhile.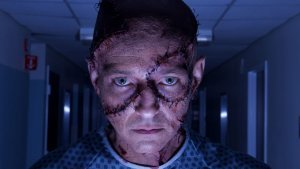 MICK GARRIS closes things off with a tragic tale of a murderous mugging that leaves a family torn apart and a young boy with newfound ability to communicate with the dead. This one originally was to be a longform feature but was later adapted as a short, but it's definitely not short on both heart and heart-pumping moments. It has some intriguing twists and turns and some great performances with young talent. This was also a personal story for Garris, and definitely will resonate with you if you've experienced a loss.
All the segments are bridged together with a wraparound starring MICKEY ROURKE (directed by GARRIS), who is suitably creepy as the mysterious "Projectionist". While I'm not sure this wraparound entirely works, it's the kind of thing that will probably grow on me when more of these anthologies get made. It definitely adds to the mid 70s AMICUS FILMS feel that this anthology sometimes channels, and I do love the notion of a creepy Projectionist showing people (victims?) these films… especially in a day and age where pretty much every theatre is digital… nice way adding a sense of freaky otherworldly wonder from a bygone era to it all.
Thrills, chills, and occasional blood spills, whatever your favourite horror flavour is, NIGHTMARE CINEMA is sure to quench your terror tastebuds. Seek this one out.