Montreal SKETCHFEST IS HERE!
If you aren't as excited as me… well you clearly have missed out on the last 9 years of Montreal Sketchfest. No better time to experience the festival than this year at its 10th anniversary!
Opening night started exactly as it should have, with the Ladies & Gentlemen troupe, made up of Chris Sandiford and Daniel Carin, everyone's favourite ambassadors of Boat Day. After some minor confusion and raising my day drunk hopes that we were actually in Louisville for the Chilli Con Carne Festival they brought up all the acts for the night and beckoned the start of the festival! Only thing left to do was to blow on the conch signalling in the 9 years of Sketchfest's past.
Leading off the night was the troupe, Swamp Mouth! Featuring Sarah Stupar, Sarah Quinn and Steve Patrick Adams. Using the high concept staple of the switcheroo of the Sarahs (Vanessa and Quinnessa two best friends with an abundance of similarities) changed bodies, becoming each other. Hijinks ensued and the Sarahs managed to build an interesting world filled with STI's and the quest to get asked out to prom. Steve played the supporting role and filled in all the other characters, from the day drunk troll, who forced them to change bodies, to their crush, who ends up asking a squirrel to prom (#RIPNutsy).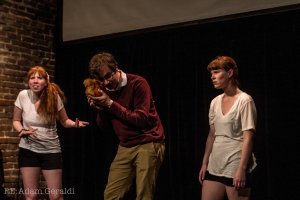 Keeping the ball rolling, up next was Freddie & Jess. Featuring quick changeovers by screaming "NEXT SKETCH" and clapping their hands like a Clapperboard, they explored dozens of ideas. From a couple's wedding speech after the worst wedding possible (seriously both moms wore  wedding dresses… it was bad), to a world where Jess played every character in Freddie's life; his mom, dad, Grandma, bestfriend, the girl he lost his virginity to, and the cops. Also included was a presentation on what physical comedy was… albeit it was closer to miming. They reenacted such Hollywood classics like Twister, Dante's Peak, and The Perfect Storm… which are all essentially the same movie. They also really hate the Biodome… you had to be there.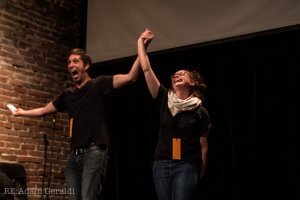 After a quick smoke break and a fresh beer it was time to start the second half. Chris and Dan had a much more interesti
ng intermission then myself however, they BOTH found love! After describing their new loved one… with more similarities than Vanessa and Quinnessa they realized it was in fact two different people and moved onto some crowd games. Including a game of charades of "Opening Ceremonies" featuring such great performances as the Opening CHERemonies and the Opening GLAREemonies. The dynamic duo continued to show off how incredibly tight they are and played off each other in unparalleled fashion.
And then things got weird… like really weird. Barbara, a troupe out of Toronto, started with a girl cutting out some friends out of paper holding hands and just as I thought about how dark this was going to get, they appeared. The girls cutouts had corporal form and could they ever sing! That reveal had the whole room in stitches, it was one of the best reveals of the night. If you are into Lonely Island type songs, go check them out this troupe, they are bizarre in the best kind of way.
And just like that we were at the last act of the night. With the house troupe HOT RAW FIRE.
They lived up to their motto of not-your-grandmas sketch troupe. They wanted to be different, they wanted to be a part of the mobile generation! After their keynote intro they lived up to that by streaming a live report from all over Theatre St Catherine. This was an impressive technical bit that they continued to use throughout the night. Absurd humour masterfully stitched together to form one big piece. No matter how out of place something looked it always tied back into the rest of the act earning their title of the hottest rawest and fiery sketch troupe.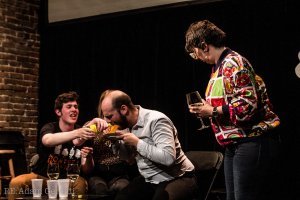 Being opening night of the 10th year anniversary of Sketchfest there was of course cake!
And then we all got shitfaced.
Sketchfest: Comedy and Parties on all this week at Theatre Ste-Catherine and Montreal Improv Theatre ending on the 30th with the Best of the Fest award ceremony. Don't miss out!