My Rocky cherry has been popped!
This past Saturday, October 28th, I got to be a virgin again. I went to see the Rocky Horror Picture Show Halloween Ball at the beautiful Imperial Cinema. Now, if you've ever been to this show you know how amazing it is. I have to say I was greatly impressed.
This isn't just a bunch of people dancing to a movie or a bunch of groupies acting out a movie scene. This is a production from start to finish. From the moment you step in – there are hot boys and hot girls ready to help you with seating, hand you an umbrella and warm you up for some Time Warp.
Now, this is not for the fainthearted. The words slut, asshole, and many more slurs are shouted throughout the show, depending on who is on the screen. Boys in corsets and girls in fishnets, on and off stage, are dancing and singing along with the movie. Audience members participate with the cast and play along with the movie. When it rains on-screen, it rains in the theatre. Toilet paper is thrown from the mezzanine to add effect. People get up, dance in the aisles and sing along. The atmosphere is contagious and you wished you brought some fishnet stockings with you.
The show was sold out and seats were packed. Everyone was dressed up, in high spirits and ready to have fun. I was so happy to see Tranna Wintour, the new MC on stage delighting the crowd. As usual, her outfit was spot on and I couldn't think of anyone better to carry the torch.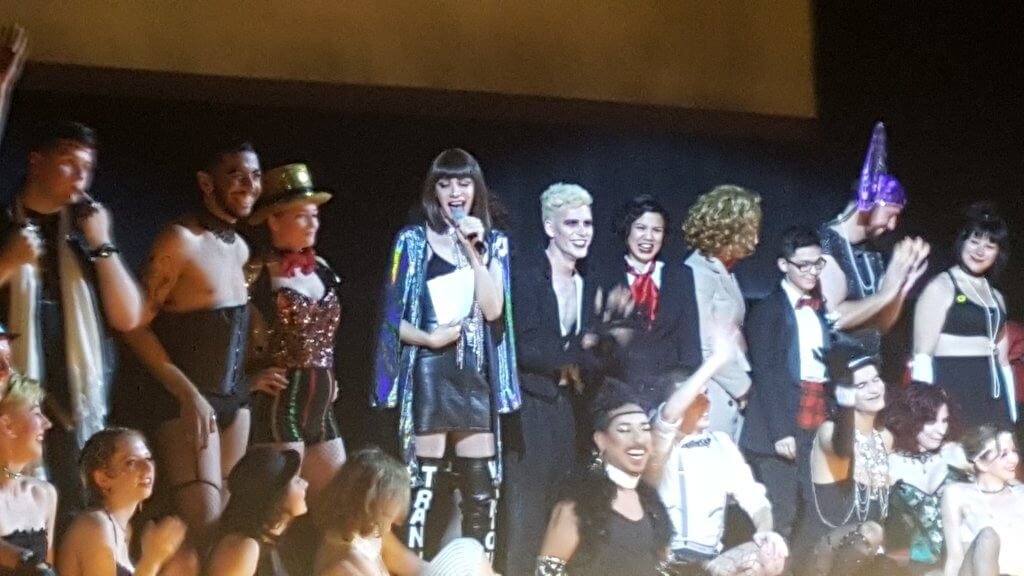 Every move was on point, the dancing was synchronized and the timing was on.  The costumes were unbelievable and the props really brought the movie and the stage together as one show. The audience was so into the show, commenting and engaging, I couldn't figure out what or who was more entertaining.
My favorite part had to be The Voice, played by Nick Turnau. Not only did he have it down, the entertainment value of his comments was priceless.
Here was the shadow cast from Saturday, October 28th 8pm.
Frank: Heidi
Janet: Marie-Anna
Brad: Hannah
Riff Raff: Gordan
Magenta: Carmen
Columbia: Shayna
Dr. Scott: Matt
Rocky: Zynor
Eddie: Matt
Click here to see the full cast.
Tickets are still available for the 8pm show online and at the box office starting at 5pm. There are very few tickets left in stores so don't wait to purchase your tickets and be apart of the hottest Halloween event in the city. You can start lining up as early as you want!
If you are looking for something to do on Tuesday, I'm telling you to go see the Rocky Horror Picture Show Halloween Ball. We'll see you there!