Rag Bag Cabaret at Mainline Theatre & Lady Rash at OFF-JFL-Zoofest
Rag Bag Cabaret at Mainline Theatre July 18that 7:30 pm & Lady Rash at OFF-JFL-Zoofest New Outdoor Stage July 20that 9:00 pm.
Samantha Bee, Ali Hassan, DJ Demers, Dave Merheje, Deanne Smith, Jessica Holmes and Sook-Yin Lee are just a few of the amazing talents that have performed in one of Toronto's longest-running variety show Rag Bag Cabaret since 1996. Rachelle Elie host and producer of the show is thrilled to bring the show to Montreal audiences for the first time. Every show includes a variety of acts including magicians, musicians, burlesque dancers, circus acts, comedians & more.
Rachelle has written and performed five one-woman shows and her one-woman show S#!t I'm In Love With You Again was one of Mervyn Stutter's Pick Of The Fringe at the Edinburgh Fringe Festival in 2017 and was invited to be a part of the Off-Broadway Encore Series in New York. She was nominated for a JFL Best Comedy award and a Montreal Clown Festival Award. Having recently moved to the Ottawa valley three years ago she has produced fifteen shows in Almonte, Carleton Place, Carp, Orleans, Toronto and Ottawa. This July Rachelle has two fabulous offerings for Montreal audiences.
Rag Bag Cabaret at Off-JFL-ZooFest
Mainline Theatre Thursday, July 18th 7:30-8:30 pm.  Doors open at 7:00 pm with DJ Pilla Keys. Come for an evening of titillating fun! TICKETS at hahaha.com or zoofest.com Our stellar line-up includes:
• Rockstar Frech Comedian Francois Bellefeuille En Anglais! 
• Exquisite burlesque goddess Elle Diablo and her Devlish vixens 
• Sultry Boylesque Adonis Dew Lily
• Hilarious jokester Ashley Krawchenko
& Rag Bag fave Master of illusion Lukas Stark!!
Hosted by your Mistress of MILF Award Winning comedian Rachelle Elie.
WATCH the Rachi RAGBAG Teaser below! 
AND….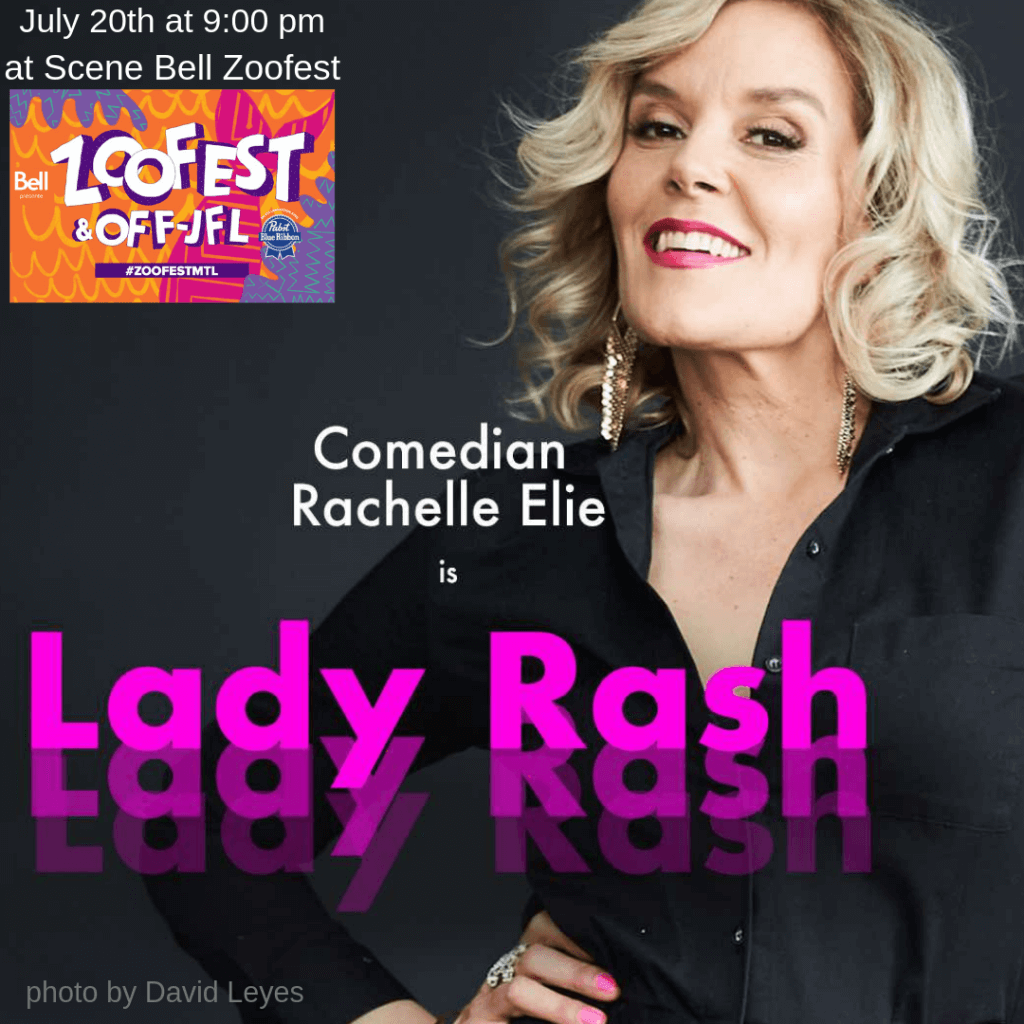 Sat July 20that 9:00 pm Rachelle Elie presents her one-hour stand-up comedy hour LADY RASH (don't google it!) at the ZooFest outdoor stage. Sex, Drugs & teenage boys Rachelle tackles it all with comedy, magic & glitter. Elie has performed at the First Air Arctic Comedy Festival in Iqaluit with Mary Walsh, was nominated for Best Break Out Artist at the Canadian Comedy Awards, returned to The Women In Comedy Festival in Boston and the 2019 Sirius XM HubCap Comedy Festival with Tommy Chong.
★★★★★ Undeniably talented- Happiest Medium
★★★★ Exquisite performer – Vue Weekly
"Elie could easily have been the love child of Carol Burnett and Lenny Bruce." –Show Score, NY.
"..Rachelle is moving units." – HipCrank
"a reflection on parenting and middle age that navigates life's strangeness with wild-eyed, childlike abandon."- Apt 613