33 Variations: Pianos, Dragons and Two Powerful Women
In exactly one week the curtains will open on Brave New Productions 20th show, and it's a Tony-Award winning piece of theatre direct from Broadway. That's not to say the show is anything as simple as a copy and paste import, in fact, "33 Variations" stays true to the heart of the creative, independent Montreal company that's bringing it to life.
"33 Variations" by Moises Kaufman tells the story of Katherine Brandt, a musicologist obsessed with finding out why Beethoven spent a large chunk of his life focused on writing 33 different variations to someone else's music. The play cuts between her investigation in the present and Beethoven's time of obsession in the past. Comedy, music, and a compelling love story round out this truly special script all while a grand piano sits center stage, taking the audience on a journey through each variation.
I have worked in some capacity on each of Brave New Productions 20 shows, but there is something truly special about "33 Variations". Each character has a story to tell and the seven piece ensemble has been working for months to bring their characters to life. Tasked with taking us on this incredible and emotional journey,  Beethoven (played by Stephanie McKenna) and Dr.Brandt (played by Emma McQueen) are a large part of the heart of the show.
Q: How did this show – and your involvement in it – come about?
Emma: Donald and I work together closely at the helm of Brave New Productions. We've had this play on our list of "dream" shows for a few years now, waiting for the perfect time and team to bring it to life. From the moment we first discussed it, Donald knew he wanted to direct, and wanted me to play Katherine. I was deeply inspired by the character, and felt a strong personal connection to the story, so of course I agreed.
Q: And Stephanie, you're playing a larger than life man of history. How did that happen?
Stephanie: I have worked on a number of projects with Brave New Productions since the inception of the company. I am very fortunate to have built a strong professional relationship with them and to have the chance to work with them regularly in various ways on different projects. Because they know my work and my abilities, I was thought of and read for this part before being asked to take on the roll of Beethoven. I was asked to take a new step with the company, to turn a new page and embark on the most ambitions project thus far; 33 Variations.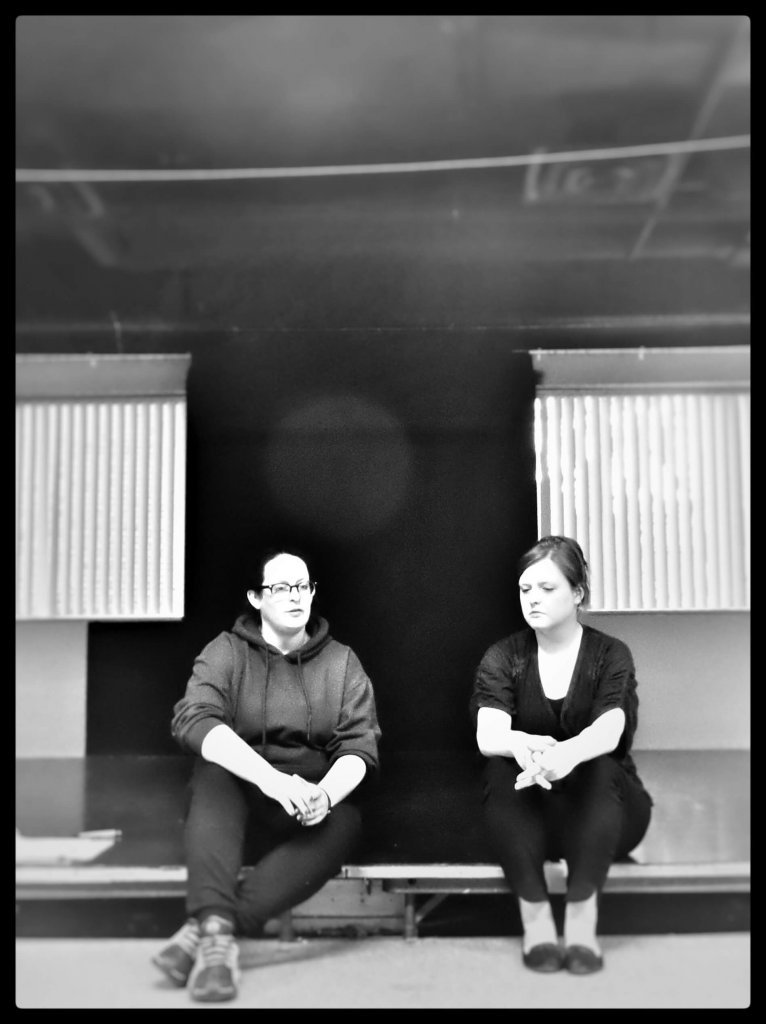 Q: There's so much to the play. Tell us about your characters.
Emma: Katherine takes an incredible journey, both emotionally and physically, throughout this play. She is dealing with a neurological disorder that is quickly overtaking her muscles, yet is determined to finish her research on Beethoven's Diabelli Variations. At first, she appears cold and detached, although we soon learn that this is only her misguided way of effecting strength. This attitude, combined with her attempts to shelter her daughter from her medical situation, only increase the tension in their strained relationship. The challenge for me is to show Katherine's vulnerability through her mask of strength. She puts on a brave face for those around her, but inside she struggles with self-doubt, a feeling of loss of control, and fear of an unknown future. It's only when she finally faces these specters that she is able to begin making meaningful discoveries.
Stephanie: Beethoven is a very complex man. Throughout this play we essentially see his life flash before our eyes. His health deteriorates as his passion and determination for the variations grow. He becomes increasingly eccentric and stubborn as his hearing worsens yet in all of this, his spirit is never broken. The challenge lies in finding a way to portray all of these things while staying true to the story and to Beethoven. To evoke from the audience the array of emotions that parallels Beethoven's own emotions. To captivate the audience so that they leave satisfied with the journey we have taken them on.
Q: The venue (Theatre Paradoxe, a state-of-the-art theatre built inside a church) is extremely unique, what else makes this show special?
Emma: The inspired use of music throughout the play is fascinating and extremely powerful. The show is not a 'Musical' in the traditional sense, but is rather a musical play. Beethoven's music is truly the unseen character onstage. His Diabelli Variations are woven seamlessly through the play, transporting us through time from Katherine's modern day research to Beethoven's nineteenth-century Vienna, and adding an interesting layer of depth to each scene, helping us to understand without words. Combined with the incredible acoustics of Theatre Paradoxe, a converted church, it is nothing short of a religious experience.
Brave New Productions presents "33 Variations" by Moises Kaufman at Theatre Paradoxe (5959 Monk) May 13-24, 2014 at 8PM. Tickets (25$) are available now at http://tinyurl.com/p3nzmwb.
Join the facebook event here: https://www.facebook.com/events/799209603466537/ and learn more about the show at 33Variations.ca