Get down to the Fringe Fest for some hilarity
Award-winning comedian DeAnne Smith and depraved musician Leighland Beckman join forces to make the horrendous hilarious and the horrible adorable.
This year at the St-Ambroise Montreal Fringe Festival, DeAnne and Leighland debut a side-splitting hour of comedy, storytelling, music, and special guests, along with apologies and free candy.
DeAnne, a regular on the world-touring circuit, has put on critically acclaimed shows at the Edinburgh and Adelaide Fringe Fests, Montreal's Just for Laughs, Melbourne International and Sydney Comedy Festivals. You may also have seen her on The Late Late Show with Craig Ferguson, The Comedy Network's Match Game and Just for Laughs: All Access.
http://youtu.be/_3DRcMo0rkY
www.deannesmith.com
Local "musician" Leighland Beckman, the sick mind behind Montreal's dirtiest band, Aural Turpitude, has the look of a grizzly bear with tenure. He'll act as DeAnne's filthy musical sidekick, duet partner, and protector should the crowd become too incensed by the horrible things discussed.
http://youtu.be/rCpn9Drhblg
www.auralturpitude.com
Of DeAnne, the UK's Telegraph calls her "Smart. Very funny. Effortless charm lets her get away with murder." Of Leighland, The Montreal Gazette has said, "Serial killer jumps to mind." Note: No one will actually be murdered during this show. (Though there will be a story about a dead frog. And a fair amount of graphic sexual content.)
— Showtimes —
Thu June 13 @10:45pm
Fri June 14 @ 9:00 pm
Sat June 15 @ 9:00 pm
Sun June 16 @ 3:45 pm
Thu June 20 @ 5:30 pm
Fri June 21 @ 9:00 pm
Sat June 22 @ 2:00 pm
Sun June 23 @ 4:30 pm
— Venue —
OFF A: Montreal Improv
3713 St. Laurent #202
514-507-3535
— Tickets —
$10/$8 + $2 service fee
Lower price for students, seniors, 37 year olds, OR a second ticket
514.849.FEST (3378)
www.montrealfringe.ca/en/show/horrible-things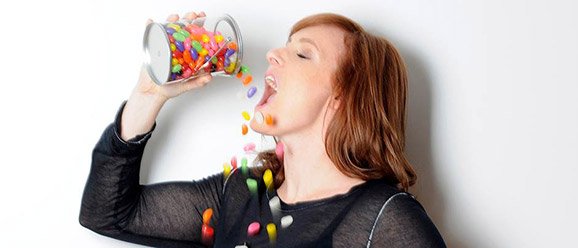 When Jess Salomon landed in Montreal with her iPhone on 2% she didn't go home to her apartment full of plugs and privacy. No, she scanned the airport walls like a true obsessive until she found a socket in a baseboard. Bent over, charging her iPhone, the sweet relief of the growing green bar sweeping over her, Jess realized that this was not the behaviour of someone in control of her life.
Sure, she had managed to avoid crack all these years, but in fairness no one had ever offered her any*. Everything else she'd come into contact with she'd become OBSESSED with, like her iPhone, also garbage men, soap star Jack Deveraux on "Days of Our Lives", human rights … EVERYTHING!
Some people measure their life according to milestones. Jess measures hers according to her various obsessions. How do you live your life? Moderately? Fuck you. That's no way to live.
*Not an invitation to bring crack to the show.
Jess Salomon is a former UN war crimes lawyer turned stand up comic. The Montreal Metro has called her comedy "charming and intelligent". She calls it "raconteur-ish, personal, dirty on a good night".
Jess's first solo show "Doing Good" played to packed houses at the 2011 Montreal Fringe Festival. At the time The Charlebois Post wrote, "I can see her getting even better with time". Well it's 2013. Jess is MUCH BETTER!
Montreal Improv, 3713 St. Laurent #202
Tickets: www.montrealfringe.ca / 514.849-FEST
— SHOWTIMES —
Fri. June 14 – 7:15 pm (DeAnne Smith, Stand Up/Super Star)
Sat. June 15 – 3:45 pm (Taylor Tower, Storyteller)
Sun. June 16 – 10:45 pm (Eman, Stand Up & Food Lover)
Tues. June 18 – 10:45 pm (Eman, Stand Up & Food Lover)
Wed. June 19 – 9:00 pm (Brad MacDonald, Stand Up)
Fri. June 21 – 5:30 pm (Karen Fennell, Dancer)
Sat. June 22 – 7:15 pm (Karen Fennell, Dancer)
Sun. June 23 – 1:00 pm (Taylor Tower, Storyteller)