Happy New Year indeed!
The New Year is upon us and 2013 is gone. What a year Montreal! So many events happened in the world, so many stars did "crazy things", lots of people passed away, others got high, language turned into a joke, comedians had comebacks and breakouts, ideas fell through and yet a light still shines. I look back on 2013 and can't believe that was just one fricken year. It felt like ages to me.
At least two.  I wanna give you my highlights of the year and those bruises even makeup can't cover. I'm also gonna share with you my plans for 2014 cuz I don't know about y'all, but it's the year to make moves.
Let's start off with my buddy Abdul Butt. I will never forget the first time I saw Abdul sitting on the stage at Le Bistro L'Etranger for the Kick Ash Comedy Show talking nervously into the mic. Flash forward 3 years and he's got his own segment on This Hour has 22 Minutes.  I couldn't be more proud of him. I know I sound like a mother praising her child but it's true. I saw the birth of a star. Brrrraaap! Abdul has always been a hard working performer, always tweaking  his craft and on his Abdul Butt Comedy YouTube page is a big hit! He's the perfect fit for the show and they are lucky to have him! Abdul, you rock buddy.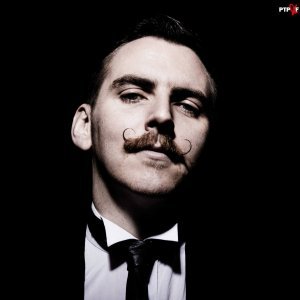 Next up is Darren Henwood. Now I didn't see his birth on stage but I've seen him blossom into a great comedian and who knows where his talent will take him. So much more than the accent folks, his charisma and charm will lure you in and then when he has you…BAM!  He did Zoofest last year and  runs hands down the best independent comedy room in town. The Lowdown Comedy Show will be making a comeback on January 17th in the good 'ol Bargain Basement. It's a for a great cause: to raise money for a cancer charity in honor of his friend Sophie Smith, who has been diagnosed with the disease. There no better medicine than laughter so come out and show your support! Check out the Facebook event for more details.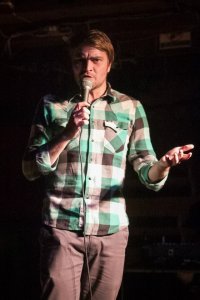 Finally it's Morgan O'Shea. Say what you want about him, this guy is fucking hilarious. Morgan O'shea has always succeeded in making me laugh. He took his humour and refined it. Made it edgy as they say in the comedy world. After watching him perform these past 3 years, he has come into his own and is gonna make it in this business.  He too did Zoofest with Darren last year  and is fresh of a tour in the maritimes where he kicked ass according to Boss Schmidt. You can catch him at Shut up and Laugh! Wednesdays at Burritoville  and on my new shows starting this month at Bistro Parc des Princes. Keep reading.
Yes Yuk Yuk's closing the way it did was a shock and a total let down for me. But from this situation not only did I learn a lot,  I know exactly what I want to do and where to go from here. The search for a venue is still on so while things work in the background, I will be keeping busy with producing some new comedy shows in the Mile End. At the Bistro Parc des Princes Mobtreal Comedy Nights will take place twice a month on Monday and Friday of the same week. Monday will be Mobtreal Open Mic Mondays (Lundi Open Mic).  Friday will be Mobtreal Featuring Fridays (Les Vendredis Vedettes) featuring 3 comics doing 20 minutes each in French or English.  To get a spot, email me at info@mobtreal.com the Friday before. The first dates will be January 13th and 27th for Open Mic Monday and January 17th and 31st for Featuring Fridays. Did I mention if you come to the open mic you can come to the Friday show for free? Oh yes you can son!
I would also like to take the time to apologize for some of the mistakes we've made this year. We are not perfect here at Mobtreal and we have made our share of mistakes. Juggling real work and trying to build an empire isn't that easy. But with your support over the years, you have proven to me that my work is appreciated and that's what keeps me going. We've made some bad tweets and sometimes have sent out the wrong information. Sometimes we don't show up to cover shows and sometimes our content is published late. Yes we need some more organization and this shall improve in the new year. I want to apologize for the review that has been making a lot of noise. The Grinders open mic. I realize and will never again review an open mic. It's not fair to judge new people who come onto the scene as well as dissect jokes that are in the making. Boss Grace, who has been writing for the blog 3 months now is new and was giving her opinion. At the end of the day this is a personal blog and as much as we want to keep it positive and supportive, we want to stay truthful to our readers. I understand there is a PC way to do so and as chief editor the fault falls on my shoulders. I've been asked "what gives me the right to blog about comedy?" I guess the same thing that gives people the right to perform comedy. The want, the will and the passion for comedy is what drives me.
Do I have a journalism background? No. Do I like to write? Yes.
Do I have the credentials of a well known media person? No. Am I a media person? Yes.
Do I know as much as I should about comedy? No. Do I love to laugh? Yes
Some may say that's not enough to do what I do. Well I say it's more than enough to make a start and keep me going. I am always open to critique and ways to improve my blog and promote you the comedians better. It's always been my goal and always will be. So if there is something you'd like to share or would like to see more of or less of, please send your thoughts to bossjo@mobtreal.com.
Overall I want to wish you all a happy New Year and prosperity for Montreal comedy and its talent. Thanks for being loyal readers and coming back to read and share our articles. We appreciate it and love you for it.
Jo