Have you seen Conversion?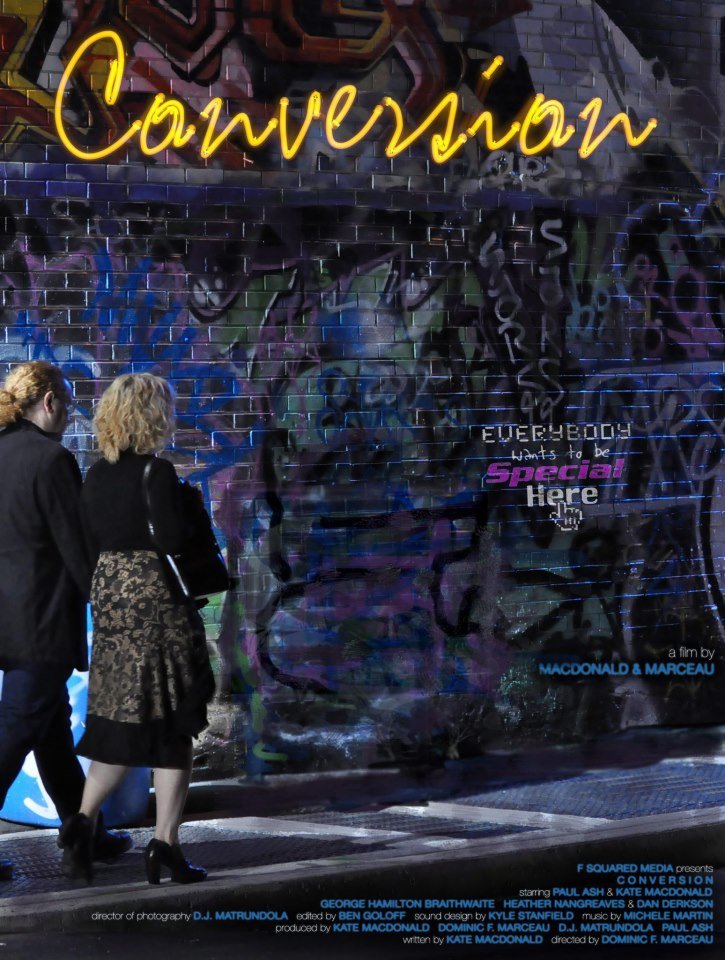 Picture you and your buddy are out at night. You miss the last metro and have to make your way home on foot. But it's Montreal and anything can happen, right?  Totally right according to the Conversion.  Now between my "down time" after the festival and catching up with the photo uploads,  post sharing and general duties, i haven't had the time to write the few posts that are very important to me. i come along way in my 3 years in the comedy scene and still consider myself a munchkin in the domain. But I have made great friends and connections along the way and even though we may see each other once a year out of the blue, I hold you guys close, those who support my cause in making Montreal known for it's local comedy outside the crazy July period. Here are some people who have done that.
Paul Ash was the first person I found on the interweb when I was looking for comedy in Montreal and who to turn too. Well Google wasn't wrong cuz through him, I  have met and now are friends with the best local talent in town and for that Paul, you will always be in my heart. "A friend of yours is a friend of mine" Yes, mobster mentality has been there before the rebranding because if you knew Paul, then you we're good with me. So then came Kate MacDonald and Dominic F. Marceau. Two fellow cool cats who like to laugh. Hello! 
Not to mention the cast of local comedians is amazing! (If I missed you, please leave a shout out in the comments.)
Paul Ash
Julia Delrieu
Karl Knox
Faisal Butt
Dan Derkson
Kris Dulgar
Stefan Petersen
Demelza St-James
Morgan O'Shea
Joel West
Marquise
George Hamilton Braithwaite
Asaf Gershak
Mike Meo
Annie Deschamps
Trevor Forestell
David Schultz
Here's what Dominic has to say about Conversion:
Four years ago, indie filmmakers Dominic F. Marceau, Kate MacDonald and Paul Ash decided to make a movie called 'Conversion'. And so they did. Without government or private funding, without going through any of the usual channels to recruit talent or technical staff, without relying on the backing of a studio. Twenty years ago, ten years ago even, the costs of film alone would have made this prohibitive to most filmmakers, but advances in technology have put greater power in the hands of the creators and may herald the beginning of an entirely different model for the uneasy industry.

But having made the film on their own dime and according to their own vision, the production team was stymied when it came to distribution, still something that is centrally controlled. And then, as they had before, technology and fate conspired to offer something new.

Earlier in 2013, on line video service Vimeo- born as an alternative to YouTube for more creative types- launched its "On Demand" service, which allows filmmakers to distribute their work themselves, charging nominal fees for downloads, or for feeds that are available for a fixed period of time. With low start-up costs and nothing to worry about when it comes to inventory, shipping fees or refunds for damaged product, the service was an obvious choice for 'Conversion'.

"We were able to make the film the way that we wanted," says director Dominic F. Marceau, "and going with an online distribution service is just an extension of that. Traditionally, distribution was always a road block, there was no way to get around handing your baby off to someone else when it came time to get it out in the world. But this is a game-changer."

In a year that has seen big films struggle to gain box office returns greater than their original budgets, it does seem that the movie-going public is open to other options.

Marceau speaks excitedly about the possibilities, saying "If you don't want to see the big picture of the week at a multiplex- or if you've seen it already- there are fewer and fewer options available to you in theatres. So people are looking more to other sources to find something new and different, the kind of thing that won't play on 4,000 screens, but that might be a better match to their tastes."
BAM! Or as Sebastien Bourgeault would say: POW! Oh I almost forgot the best part. You can own this movie, support your local comics and independant film makers all for the low price of 5$! YES 5$ folks. Check out the trailer below and and then go buy it por favor!
Conversion (2013) – Trailer from F Squared Media on Vimeo.
So what you waiting for go add money to your prepaid credit card or dust off that Paypal account and put it to good use!