Invasion Cocktail takes over Montreal
With Spring in Montréal comes sun, drinks and the joie de vivre that this city is famous for, and what better way to kick off terrace season than a cocktail festival? Enter the 3rd edition of Invasion Cocktail, a festival dedicated to the world of cocktails and mixology, similar to other festivals in London, New York and New Orleans. Founded by Maryline Demandre and Pierre Olivier Tremple–who runs the Made With Love mixology competition–the festival aims to provide a window into the world of cocktail culture to the general public. Festival-goers can see for themselves the passion and dedication mixologists pour into their craft with everything from the cocktail preparation to the presentation, the exotic ingredients and flavours used, and the sweet chemistry that goes into perfecting each cocktail.
The festival kicked off May 10th at the Phi Centre with a cocktail soirée. Participants from both Montréal and Québec City–such as the SAQ, Alambika, and Bar Palco to sponsors like Cointreau, Ungava Gin and Old Tyme Ginger Beer– set up booths and provided cocktails based on their products (my personal favourite cocktail name? "Scotty Doesn't Know"). People who work in the industry, from bartenders and mixologists to business owners and brand ambassadors, all mixed and mingled over their products' tasty creations. In addition to opening night, there are seminars with industry experts, as well as the closing night with the Made With Love national finale at the Rialto Theatre on Monday, May 16th.
The festival is not just for industry insiders nor for the high-rolling bon vivants of this town. Anyone can purchase a festival passport for only $20 which allows them to try out any of the over 200 specialized cocktails (all made with sponsors' ingredients) at 36 different bars and restaurants in Montréal and Québec City. The cocktails are modestly priced at $7, which is worth taking advantage of as normally any one of these cocktails can easily cost over twice that price. This allows people with even the most limited budgets the opportunity to try out the tasty and creative cocktail concoctions produced by some of the city's finest mixologists.
I decided to check out a few of the participating venues in my hood, the Plateau Mont-Royal, and see what was being served up this year. My first stop was at La Distillerie–a popular destination that helped kick start cocktail culture with their famous Mason jar cocktails back in 2005–and tried out the "Rémy en Kilt," a smorgasbord of flavours with Rémy Martin VSOP, scotch, maple syrup, chocolate bitters, among other ingredients. The scotch and cognac in the middle were surrounded by all the other savours throwing the tongue off-guard. Definitely not something you encounter everyday!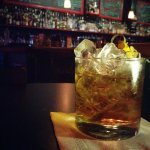 Next up I went to the premiere cocktail lounge, Le Lab, where I knew I was in for a treat with owner Fabien Maillard's recipes. I tried the "Gentle Maple Jack" and true to form, the cocktail was truly next level. Already a fan of Gentleman Jack, the added maple syrup and cardamon bitters both provided complimentary sweetness and spice that kicked up the taste which thankfully lasts quite a long time in the mouth. Definitely worth checking out!
Being partial to rum, I then made my way to Barraca hoping to see how they could spoil my taste buds. While hoping to see their spin on a rum cocktail, I instead got seduced by "Madame Velours" and with Chambord, cognac, vanilla syrup, chocolate bitters, raspberries, and other ingredients thrown into the mix. Who could blame me? The result was something cool, with many layers of sweetness–the chocolate and vanilla fighting with the berries, then kissing and making up much to my pleasure.
On my way back home, I noticed another venue Rouge Gorge that was participating and I figured my liver could take one last hit for the night. I decided upon trying the "Fraise Chaude" made with Havana Club, crème de cassis, orange syrup with some strawberries thrown in. The name "Fraise Chaude" couldn't be more spot on as the drink is served almost piping hot in a brandy snifter, offering up a warm, sweet, syrupy treat with the cassis kicking in the door that ends with a fruity finish. Oh, and be sure to eat the strawberries at the end of the drink, you won't regret it!
The festival is still going on, so be sure to buy your passport and try out all the cocktails that Montréal has to offer (tickets are still available for the Made With Love finals competition as well). Take advantage of the low prices and the opportunity to check out new venues you have never been to before. Either way, your taste buds will thank you!
To read more about what Made With Love is about check out our post on it.