Montreal Sketch Fest Day 3
Welcome aboard ladies and gentlemen! As you can probably tell by the title of the article, I had the privilege of attending the 3rd night of the Montreal Sketch Fest that is taking place all week long at Théâtre Sainte-Catherine. Catching the late night show that featured sketch artists Jewbacca, Power Struggle and Uncalled For, I was expecting to see some juicy, edgy and somewhat controversial material. Trust me, this talented ménage à trois, lead by host Mike Paterson, did not fail to disappoint.
The night was off to a good start with host Mike Paterson, whose contagious laughter and wide smile got our facial muscles nicely warmed up for the Power Struggle trio that was about to start the show off.  Albeit some awkward jokes that received little response from the crowd, Patterson always managed to shrug it off with his silliness.
Pow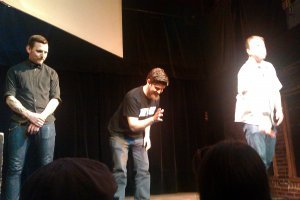 er Struggle started off the show with a satirical encounter between Jesus and two very eager reporters from Fox News and E! Hollywood. Darren Henwood portrayed the typically quirky and energetic pop culture reporter and Walter Lyng played the Fox News reporter to perfection, asking ridiculous questions about the legitimacy of homosexuality and the like. And as Jesus left them on a cliff-hanger, the scene collapsed and all three criticized each others acting…leading us to sketch number two. Personally, I think it lacked punch, as they morphed into three regular guys talking pop culture and rumors. However, the trio's last act definitely showed the crowd that rock-paper-scissors is a serious game of life or death. How could I put this…Lyng's  paper beat his opponents rock and scissors absurdly. Tearing paper into bite sized pieces and throwing them into the crowd, rolling on the ground, and shoving paper down his pants were but a few of the hilarious tricks that lead to the death of his two opponents and lead the crowd to die….of laughter. Needless to say, Power Struggle redeemed themselves with that last act!
Mike Paterson then happily introduced Josh Budman under his pseudonym, Jewbecca. This guy impressed me with his four acts, each getting better and better as he progressed through characters, such as a cruise driver promoting terrible and life-endangering deals, a zombie eight months clean from his addiction to human flesh,  the average guy in the ever dangerous friend zone and the grand finale: rapper Jewbecca. Dawned in a Montreal Canadiens habs cap, neon green sun glasses and a red t-shirt adorned with the words "chick magnet", Jewbecca ended his act swaggerifically.
So far so good, right? Well, it gets better with Uncalled For who performed right after the 3, 5 or 6 minute intermission (in the words of Mike Patterson). Best for last is a true saying for last night's show. Anders Yates, Matt Goldberg and Dan Jeannotte are the faces of this sketch troupe and delivered the biggest laughs of the night. Their first sketch described the encounter of a child who feels he has outgrown his fear of the closet monster Slimey Toes and the need for a self-esteem booster hero. Inevitably, he would just have to live with the fact that these two subconscious "guardians" will always be within him…and in comes puberty. Jeannottes' character finds himself receiving the worst parental advice with a dash of TLC. Jeannottes and Goldberg's wild, wild west encounter was one of my favorite acts of the night, as both embodied movie-like Western cowboys… with some issues controlling their horses and whips.  And finally, Yates, with an incredibly high-pitched and Gollum-esque voice,  demonstrated the true meaning of love by hopping into the audience and plucking two innocent individuals.
Brought to the stage, these two people experienced what proved to be a simple and awkwardly forced first date that finished with the always elegant lollipop ring on the girl's ring finger, as Jeannotte fountain and Goldberg's light rendition of Chumbawamba's "Tubthumping"  serenaded this soon to be wed couple. Alright, this all sounds a bit too rosy, but everyone in the crowd did fall in love with Uncalled For, Jewbacca, Power Struggle and of course, Mike Patterson. To think that this is only the third night of the festival, with four more nights to go! And I wouldn't be surprised if the future acts make you fall in love even more with the Montreal Sketch Fest. So stay tuned.