Montreal Sketchfest is Here
The 11th edition of the Montréal International Sketch Comedy Festival includes over 60 hilarious troupes from across North America, fantastic sketch and improv workshops, and a panel discussion on the state of sketch comedy in Canada.
Between May 5th and 14th, artists from Vancouver, New York, Philadelphia, Michigan, Winnipeg, Toronto and of course Montreal will convene for our annual celebration of sketch comedy!
Events will take place at the festival home base Theatre Sainte-Catherine, as well as at Montreal Improv and this year's newly added venue: Comedy Church! Two shows will be mounted on the stage of The Parish Hall of the 'The Red Roof Church' located at 137 Avenue du Président-Kennedy near Place des Arts in the Quartier des Spectacles.
Special Events: Once again Montreal Sketchfest is proud to join forces with Women in Comedy Montreal to present a night dedicated to the hilarious women of sketch comedy. Featured are local improv superstars GROSS!, the charming British musical duo Flo & Joan, & Toronto's The Flirty Boys made up of accomplished and award winning members from the Second City touring Company and Montreal Sketchfest favorites Ladystache.
The Annoyance New York is offering two workshops in sketch and improv on May 7 & 8 respectively. Established in 1987, The Annoyance has created over 250 shows, comprised of improvisation, sketch, full-length plays, cabaret, and full-length musicals. Many Annoyance alumni can be seen today on stage, in films, and on television both in front of and behind the camera such as Jane Lynch (Glee), Andy Richter (Late Night with Conan O'Brien), Matt Walsh (Veep), Kate Flannery (The Office), Conner O'Malley (Late Night with Seth Meyers), Aidy Bryant and Vanessa Bayer (current SNL cast), and Jill & Faith Soloway (Transparent). The Annoyance NY show schedule features comedy created by The Annoyance's Chicago alumni, graduates of its NY training program, and guest performers.
Here are some troupes to keep your eyes peeled for! We're giving big shoutouts to our boys Chris Sandiford and Daniel Carin who have been making waves with their sketches and comedy across Canada this year.
Thursday May 5th, 8PM at Theatre Sainte-Catherine
Friday May 13th, 7PM at Comedy Church!
Local favorites Ladies & Gentlemen have performed in every Canadian Sketch Comedy festival in 2016 (Vancouver, Toronto & now Montreal). These two are previous winners of the Best Local Troupe and regular performers at Montreal's Monthly sketch show The Sketch Republic. The duo will also be participating as panelists on the What are we doin'? Sketch Comedy in Canada panel at 1PM on May 14th at Theatre Sainte-Catherine.
---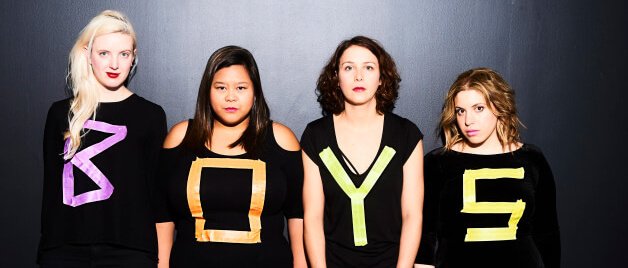 Women in Comedy Night : Thursday May 12th, 8PM at Theatre Sainte-Catherine
Friday May 13th, 7PM at Comedy Church!
The Flirty Boys are four very flirty grown women with sketch in their blood. Comprised of members of The Sketchersons, Second City Touring Co & Ladystache, The Flirty Boys were voted Now Magazines Audience Choice Award at the 2016 Toronto Sketchfest. The Flirty Boys are made up of Allison Hogg, Alessandra Vite, Ann Pornel and Alexandra Wylie.
---
Saturday May 14th, 8PM at Théâtre Sainte-Catherine
Montreal Sketchfest is pleased to welcome back accomplished NYC-based sketch group Bridge & Tunnel. Bridge & Tunnel has appeared at festivals like New York Comedy Festival and Montreal Sketchfest, where, in 2014, they won Yelp Audience Choice and Best Newcomer. Members have written for Someecards, Splitsider, and the Onion and have appeared on Netflix, Adult Swim, IFC, and The Best Show with Tom Scharpling.
GET REAL w/ special guest Al Lafrance. Friday May 13th, 9PM at Comedy Church! NYC sketch group Bridge & Tunnel presents GET REAL, a one-night-only performance inspired by the life of Montreal storyteller Al Lafrance. Come out to hear stories from Al and watch as Bridge & Tunnel turns real life into hilarious sketches. Bridge & Tunnel is Kristen Bartlett, Shira Danan, Will Gallagher, Danielle Grace, Jason Gore, Adam Maid, and Michael Romanos.
---
Friday May 13th, 7PM at Theatre Sainte-Catherine
H.U.N.K.S. is a five-star (Winnipeg Free Press) comedy troupe that blends video and live sketch into a high-nutrient paste. They've performed at The Winnipeg Fringe, Oddblock Comedy Fest, Vancouver Sketch Fest, Winnipeg Comedy Fest and regularly at The Park Theatre in Winnipeg. The HUNKS Podcast is released weekly on iTunes and other podcast platforms.
For the full lineup and ticket information, please visit montrealsketchfest.com.