Must-See Fringe!
The Fringe Festival is always a delightful cornucopia of art and entertainment. Unbridled creativity is given the chance to reign during this extremely popular theatre festival. No censorship. No filters. Anyone can apply and the final line-up is selected randomly through a lottery.
And it's a lot like a bunch of chocolates. You never know what you're going to get. Quality varies from show to show – veterans head into the game like a quarterback (insert football metaphor once figuring out how football works), novices can easily become overwhelmed.
There's a lot to take in and it's difficult to know where to start.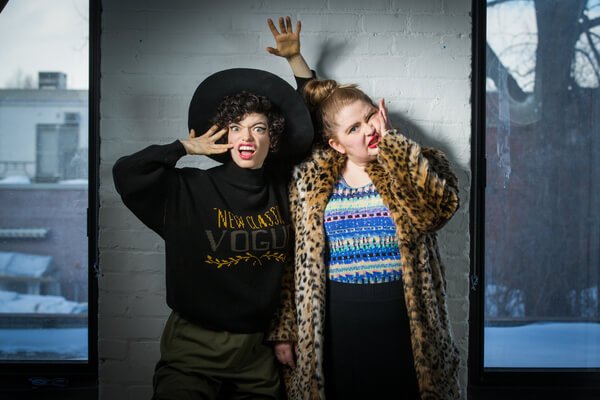 "Is This Pretentious?" is a great way to start. Holly Greco has proven herself to be an unstoppable force of creativity (Performer & Assistant Choreographer, award-winning company Dance Animal, FRINGEtern, 13th Hour Producer, & Assistant to Artistic & Executive Director). She has chosen to debut her passion for playwrighting in this two-hander that "that invites the audience to witness two artists discuss creation, collaboration, and the artistic community's challenges and realities." It's hard to imagine a more fitting Fringe topic.  As the exchange progresses choreography is layered upon text as gestures, movements, and abstracted idiosyncrasies take over the characters.
At a breezy 30 minutes, "Is This Pretentious?" is exactly the type of show the Fringe is designed for. Directed by Stephanie McKenna (Co-director of META nominated Mistakes Were Made),  the show is an easy recommendation as must-see Fringe!
A few blocks away, you won't want to miss Tranna Wintour in "Trantasy". There aren't enough words in my thesaurus to describe how fantastic an evening with Tranna can be. A fierce, passionate and hilarious comedienne, she has an incredible comic talent and fire for show(wo)manship.
Glamour, autobiography, pop music and comedy collide in "Trantasy" , this hilarious one-woman show. Let Tranna take you on a ride like no other as she explores her deepest, wildest fantasies—from lusting over her elementary school janitor to eating ice cream with Mariah Carey and all the craziness in between.  An artist with real (and well-deserved) momentum on the comedy scene, spending some time with Tranna at the Wiggle Room is a guaranteed great night out.
The truth is, you can't go wrong at the festival – so long as you have an open mind and a positive attitude towards art and creativity. The festival can be a wonderful place for emerging artists to show off their imagination and while these must-see suggestions are a good place to start, I can't encourage you enough to get out there and support great art in our city!
"Is This Pretentious?"
Studio Multimédia du Conservatoire | 4750 Henri-Julien
FRI June 12 | 22H30
SUN June 14 | 22H30
THU June 1 | 16H45
FRI June 19 | 20H30
SAT June 20 | 22H45
SUN. June 21 | 17H00
RUN TIME: 30mins | Tickets: $10.00 (+ $2 service charge)
"Trantasy"
Venue: OFF-W The Wiggle Room, 3874 St-Laurent,
Schedule:June 4th 8PM / June 11th 8PM / June 12th 9PM / June 14th 7PM / June 16th 9PM / June 18th 8PM / June 19th 9PM / June 20th 10PM / June 21st 7PM
RUN TIME: 60mins | Tickets: $10.00 (+ $2 service charge)
TICKETS: 514 849-FEST | www.montrealfringe.com