Olga Perry: "A Utopia of Fantasy in the World of Art"
Surrealistic, fantasy, artist Olga Perry has opened up an electrifying, orgasmic world of self-creation in the world of art. A powerfully imaginative painter, realistic and relevant composer of sculpture, music video extraordinaire, classical keyboardist and songwriter, Olga uses her heart and every soulful resource and essence necessary to create.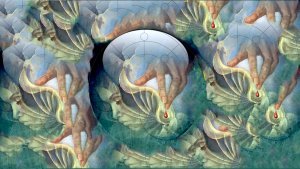 After fleeing from Russia where she was a medical doctor, and raising a daughter as a single parent, she realized a new life in a strange land with two bags of belongings and a 50 word English vocabulary. She looked at this as a challenge to conquer instead of a burden to face. Her art reflects life's experiences with a colorful endearing aspect of insanity. As in most facets of insanity the brilliance is apparent.
A keyboardist in the popular Psyche band  Revolushn, Olga paints incessantly, whenever she can. Her paintings are am anomaly of treasures which will be displayed in New York City this winter with a rare few for sale. I spoke with Olga regarding her artistry, her intentions and influences. Inspired to be a full-time artist by her beloved husband, Olga continues to create profound kaleidoscopes of quintessence of life and cosmic sensibilities.
When did you first discover the world of art?
For my fourth birthday my father bought me a set of illustrated children's encyclopedia. In the art section I stumbled on an illustration of Sistine Madonna, an oil painting by the Italian artist Raphael Sanzio. The striking beauty and information – that someone pained it by hand, all of it was incomprehensible to me.
Since, I was haunted for years by the question:" How?" Despite my amazement, it was not " the moment of enlightenment" when I realized I am going to be an artist. I did not believe in myself and everyone around me confirmed that Rafael was not a good idol to be f0llowed in godless communist reality. And I had some other options to try.
Do you have an artistic specialty?
I would say, I have a lot of things in the creation field that I equally enjoy. It  gives me varieties of options. It is hard to create in the same media all the time, it is easy to burnout and get in a creative loop. It usually takes me about 3 months and then I take a romantic vacation with another media. So, I have varieties of oil paintings, sculptures, video, animation, music video clips, radio podcasts, the keyboard player of "Revolushn" and I love all these activities. I switch between all of them back and forth.
What inspires your work?
It is a specific long-term concentration on a subject. Developing a single thought to a big picture with scrupulous details. Life itself is an inspiration. Life is a miracle and we know very little about life. We could assume that God put his glorious hands on the matter or we could replace God with the Big Bang Theory,  or we can  be a program in the program, alien nature crossed with primates, Evolution and bla bla bla —. Still the possibilities are endless. The problem is the goal itself. We attempt to put life and nature in an artificial construction of abstract limited symbols.
My inspiration is the miracle of my own existence. The possibility of you talking to me at this moment in the endless Universal game is zero. To me the goal of life is to live. Life is not the tool to get some goal. And it is my part — to create reality to my likeness — that is my inspiration.
And my work is visual materialized bits of my world that I built as my playground.
It never comes as " Oh, something hit me in my top chakra all of the sudden, and I created a masterpiece in flames of inspiration.  Jeeez.. It is not physical, it is more spiritual, the world of story tales, and I can create my own, free to do as I like and to my best at this moment of my existence. Because it is not how good it will be. It is how much of your own life is in it. I call it creating by heart.
Do you use a specific technique? 
I use a technique that I call "Despite my teachers rules technique".
I was a very difficult student, always asking too many questions.
For years of studying, I was told a lot of things like– you should paint that and this, no one paints like that, you cannot do that and you have to do this. And later on "We do not want your paintings, bring us your sculptures, why don't you paint landscapes, paint horses, paint flowers" – (galleries requirement), your art is hard to sell, people think that you are crazy. Do not laugh, literally.
I was discovered by one of the successful hair dressers in Carmel, CA. He fell in love with my paintings and said he wants to remake the Destiny of Andy Warhol. But he brought all my paintings back in 4 weeks, saying people are wondering what drugs this artist takes and they were not really happy to see my art.
Anyway, only my latest teacher and a mentor Jesse Coursaut taught me to paint exactly how I see it in my head. He developed a special way for my paintings, it includes – choice of surface, surface preparation, choice of media, and specific paint brands. Look at a few of my paintings and tell me, do you know the name of the technique? Maybe not, but after seeing my work once, next time you will know — this is Olga.
What is your artistic fantasy?
My biggest artistic fantasy came true. I am an artist.
For the first 40 years of my life I was hard headed, as a grown up in the USSR. A Medical Doctor, Ph.D., a Chemical engineer, a classical piano player, computer programmer and so on. After that I started a second life from scratch in the USA. New language, new culture, new history, new possibilities. I successfully deleted all of my left brain information and ended up living happily on the isolated island, with my favorite man in the history of humanity, and my animals, I grow my own food, and I am free to create my artist fantasy every day.
My previous life in Russia gave me a lot to think about. A very specific view of the world was drilled into my head. Then moving to other country was a big shock, it was a huge test of my identity. You have to change your language, the sound of your name, your culture, your friends and the style of communications. It is a very positive experience. It feels like being born again. It is a great challenge, it elevates life force and curiosity, it's a mental reboot, an intellectual restart.
What do you see for your future artistic endeavors?
I would rather be surprised. Also, it is hard to surprise myself with my own fantasy. See, the great part of creating anything is the ability to keep us in the moment. It is impossible to paint or write music while thinking about the future or the past, unless it's connected to the subject.
I really do not have time to think about what else this life will bring me in a certain subject. I simply do not have time or interest to look in that direction.
Do you have any coming up art shows? 

Yes, January 2019, NY, Manhattan. This one is special to me. 12 years ago I had everything to start creating a collection. I secured a great teacher, a lot of energy and desire. I had just quit my position as a corporate manager in telecommunications. My man kindly said — just paint, I will provide you a roof and a piece of bread if you paint from your head and do not listen anyone. I gave myself 12 years to build up a collection and here I am.
Up to that point my annual shows in CA and CO were portraits exhibitions.  I painted a few hundred portraits over the years as an everyday exercise for my skills. And my fantasy part of art was "under construction" belong to NFS and WIP (not for sale, work in progress).
Describe the theme of your collection.
Each painting is a story centered around the ever-lasting questions of humanity – where we are from, who we are, what are we doing here. In my work, I would rather emphasize imagination than follow passive observation of reality.
I like to execute it in minimalistic a way, few things, just enough to create a thought-provoking image. And the thought can be personal for everyone. I already checked it out, it's proven. I tested it on my shows year-by-year, just like stand-up comedians try their jokes before they go on the stage.
How many paintings did you create for 12 years, how big is the collection?
I painted few hundred. But in the show I would like to present the most recent ones, those 4-5 "years old". I started learning art late in my life. I was a professional fast learning individual at that point, knowing the rules — endless repetition, discipline, patience and a good teacher. Over the years I painted the best I could be at the moment.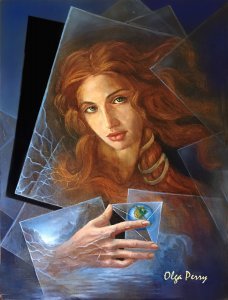 I have rooms in my house filled with paintings listed by years 2005, 2006, 2007 and so on. With time, the mistakes were obvious, I would study the good parts. It was fun beyond comprehension and an exciting journey. The important thing, I had great support, all the blessings, love and admiration from my biggest art fan – my husband, and front man of "Revolushn".
For more art go to http://www.StudioOlga.com