Pounding Nails in the Floor with my Forehead
Darkly funny monologues written by Eric Bogosian, delivered by a stellar cast that answers the question, "How did we get here?"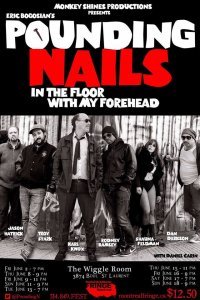 Mark these dates in your spring calendar June 2-18 (see various times below).
Written by Eric Bogosian Directed by Karl Knox. 
Eric Bogosian's stunning and massively successful 1994 exploration of American urban and suburban life as it exists out of the mainstream is a collection of searing monologues that are darkly funny and eerily prophetic. They feel like the answer to the question on everyone's lips, "How did we get here?" Performed by stand-up comics and Montreal Burlesque artists- Daniel Carin, Dan Derkson, Shauna Feldman, Jason Hatrick, Karl Knox, Rodney Ramsey and Troy Stark.  At the 2017 St. Ambroise Montreal Festival. 
Dates: Special Preview, Fri. June 2– 7pm; Thurs. June 8– 11pm; Fri. June 9– 9pm; Sun. June 11– 9pm; Tues. June 13– 7pm;
Thurs.June 15– 11pm; Fri. June 16– 9pm; Sat. June 17– 7pm; Sun. June 18– 9pm
Running time: 60 minutes
During the Festival: Tickets also available at the box office located at FRINGE Park (corner Rachel and St-Laurent) or at The Wiggle Room as of one hour before show time.
---
Pounding Nails in the Floor with my Forehead
Location: The Wiggle Room
Address: 3874 St. Laurent Blvd. (across from Schwartz') – All Shows 18+
Tickets: Tickets: $10.00 (+$2.50 service charge)
Details: To purchase tickets: 514 849-FEST (3378), www.montrealfringe.ca