Seoul Transcends at M for Montreal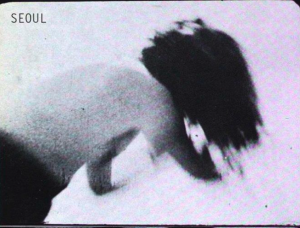 Blogs have been abuzz with the fresh out of the gates Montreal band Seoul since the summer but analog me (no internet at home!) only stumbled upon them last week, their name scribbled on the M for Montreal festival's poster. In a sea of other band names, my eyes were quickly drawn to theirs only because I spent most of my twenties living in South Korea which included a five month stint in the capital. Curiosity blazing, the festival site led me to their tumblr page and, there it was… a beautifully shot video of their only single "Stay With Us" which made me long for my days in that neon lit part of the world.
I searched and searched for more tracks but came up with nothing. But then again, I'm not really good at this sort of thing so I would have to settle on doing it old school and discovering what else they had to offer live. The show, which was held at RIDM for M for Montreal, felt like opening the coolest present ever on Christmas morning; exhilarating.
The four member band hit the stage, their cherubic faces intense, a bit nervous even, but ready to go. Synth player, Julian Flavin, was the chatty and more smiley one, obviously soaking in every second of his time up on stage. "We're in a black box in the middle of the world," he said, referring to the dark and perfectly square venue that we were in. "It's crazy."
The five track set was dreamy, airy and inspired. The instrumentals were strong, the shared vocals even stronger. My only concern before seeing the show was that the atmosphere and sound of the single (and what I guessed the other songs would be like) wouldn't translate without all the production that goes behind recorded tracks. I was happily dead wrong. Especially considering how new this band is, they are rock solid. They have a clear direction and every aspect of what they do, from their performance to their video, is set to a high standard. The "Lost in Translation" vibe is maybe even too obvious to mention, but if Sofia Coppola ever decides to make a part two, she wouldn't need to look any further for soundtrack material.
Despite the intense heat in that densely packed venue of revelers, many of whom came just to see opening act Seoul and knew every lyric to every song (how?! I need need to learn how to internet better), the show's breeziness kept me in a tizzy till the last note was played. "We don't take it for granted that you are here," said the starry eyed Flavin towards the end of the show. No worries. Not one person was taking it for granted that you were there, and here to stay, either.