Sextape Comedy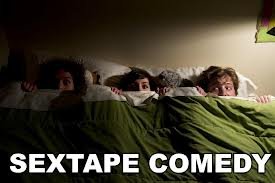 No this is not a typo nor is it funny porn. Well it's porn for your laughing glands.
Sextape Comedy
is a sketch comedy group from Brooklyn, New York who have really have bitten my funny button. ( What?) They consist of Hans Kulla-Mader, Chelsea Catalanotto, and Tim Velsor. Together they make funny skits like this new one below.
Being production assistants on the hit sketch show Saturday Night Live surely gives them some great tips and ideas for there videos.  I've been watching their videos all day. If you like sketch comedy, then you're gonna love them.
Or maybe you prefer something like this!
Go check out their
YouTube Channel
and
Funny or Die
for all they're cool clips! follow them on
Twitter
and 'like' the
Facebook Page
. Maybe when I go down to the Big Apple and meet them, I'll do a cameo in one of their sketches, wotcha think guys?
So keep an eye out for the next Sextape scandal, coming to you soon without night vison filter.
Take care
Jo