Contest time: The Skatalites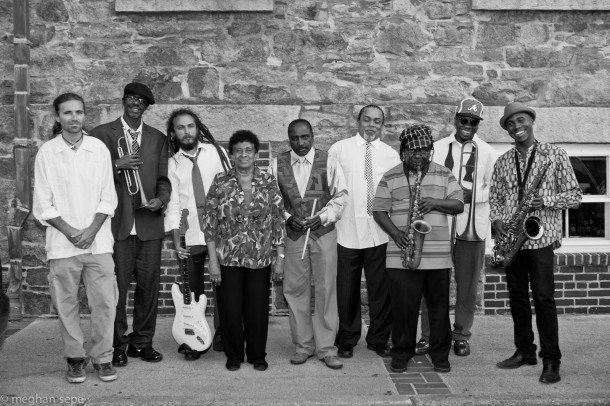 We've all heard of Ska music. You think No Doubt, Sublime, you think saxophone, trumpet and that 80s dance always comes to mind. I thought I knew what ska was until my brother from England put my ignorance to rest when he made me listen to  a CD with all reggae music but songs that Michael Bolton and Madonna have made hits out of. Here they were in reggae form, 50 years before those artists even thought of singing 'em. That's when I realized how far back you have to go to actually find the original tunes. You think sampling is bad now. We have been sampling music for over 50 years son!
Jamaica is where it all started. The top musicians from that time brought all their musical styles together – R&B, calypso, boogie-oogie wonder blues, mento, jazz and African rhythms- and created a new one: ska. The Skatalites was formed in 1964 and we're a hit from day one. During their first rehearsal, so many people surrounded where they were practicing that the owner just started charging admission and letting people in. Comprised of 9 members, Roland Alphonso, Johnny Moore, Lester Sterling, Don Drummond, Lloyd Knibb, Lloyd Brevett, Jerome Hinds, Tommy McCook and Jackie Mittoo , all seasoned musicians who've been working with each other for over a decade, they took their unique sound and put Jamaica on the map for their music genius and influence on todays ska as we know it. Even though the band may have a wave of new members, the soul and message of the Skatalites remains the same. Real, live music bringing people together every time it's heard. To find out more on the history of the originators of ska, visit their website.
Here's a taste for you below!
Opening for this legendary band is The Beatdown.  They bring heavy heavy reggae sound to the masses. They take the traditional ska and reggae sound, mix that with their 60s soul delivered it with high punk rock energy. Sounds like a good time! They only been around for a year but have already toured over 10 countries and have shared the stage with Vernon Maytone (The Maytones), The Slackers, The Planet Smashers, Chris Murray, U-Roy, Subb and The Johnstones. Here's what they sound like.
To buy your tickets call the box-office at 514-770-7773. Prices are 20$ in advance and 30$ at the door. Doors at 8:30pm and show at 9pm. This event and many more takes place at the Rialto Theatre, 5723 Parc Ave.
Now here's where it get's cool. Mobtreal is giving away 5 pairs of tickets to see the Skatalites! All you got to do is 'LIKE' our page on FB and comment below! Winners will be chosen Wednesday, November 20th 5pm.
Got some more contest coming so keep on reading and sharing Mobtreal.com!
Cheers!