Food Truck-Apalooza!
Summer is almost over. Okay, that's not exactly true – but the Just For Laughs festival is almost over – and if you've ever dreamed of not only dining on fancy and creative food coming from the back of a truck but have also wished to have an excessive amount of options shoehorned into a very small area, then you need to head out right now the food truck festival organized by the team at Just For Laughs.
About 40 different restaurateurs have lined the streets covering the entirety of the Quartier Des Spectacles and from noon until 11pm everyday (until the 27th) you can dine to your heart's content from something as simple as pulled pork sandwiches and ribs to higher-end items like beef tartar and duck.
While not all the venues are trucks 'per se', they do offer a great opportunity to eat outdoors in the middle of the city and sample tasty items you wouldn't normally find in the food courts. One word of warning: your bill to food ratio will be higher than you expect. Eating from the side of a food truck isn't a way to save a buck (expect to drop about 15$ for a combo meal) but it is a unique opportunity and not one you should pass up.
In the interest of journalism and also my stomach, I popped over to the festival and took a good half hour to decide on a lunch. The options are staggering (though at least five vendors list pulled pork as the first item on their menu, clearly a popular item) and in the end I decided to try "P-A & Gargantua" who specialize in grilled cheese sandwiches – from traditional to some exotic combinations you won't find anywhere else. The one I ordered included chili con carne and Cajun smoked meat. While the crispiness battled it out with the chili, I swallowed the whole thing down with a homemade blueberry soda while sitting by the fountains in the sun, surrounded by others taking advantage of this unique opportunity – which is yours to enjoy now before the festival ends this Sunday.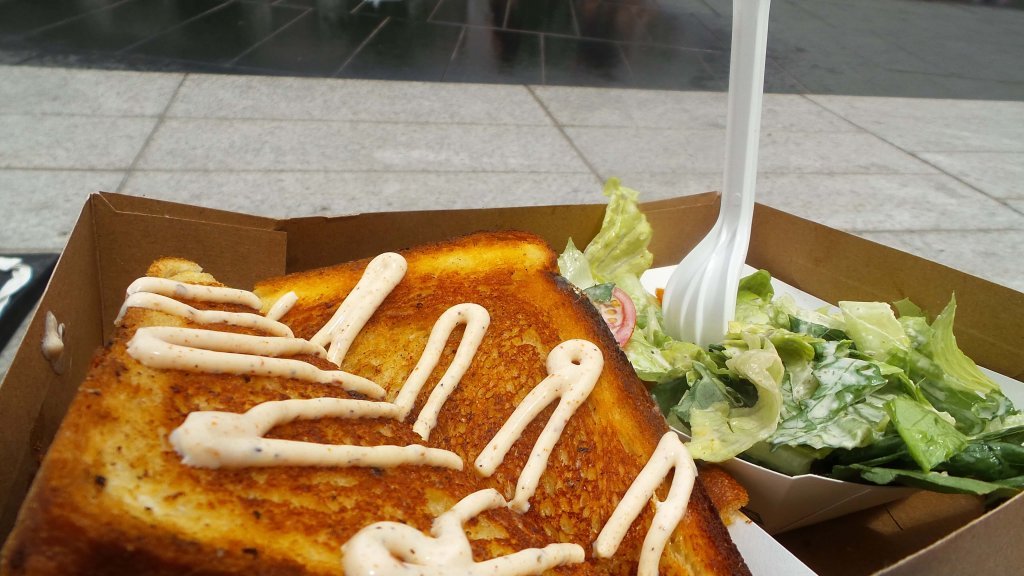 More info: