The Full Line-Up For "The Star Power Variety Hour" Unveiled
Impressionists, singers, comics and more take to the stage for a very special Brave New Productions fundraising night  on September 4th at Mainline Theatre.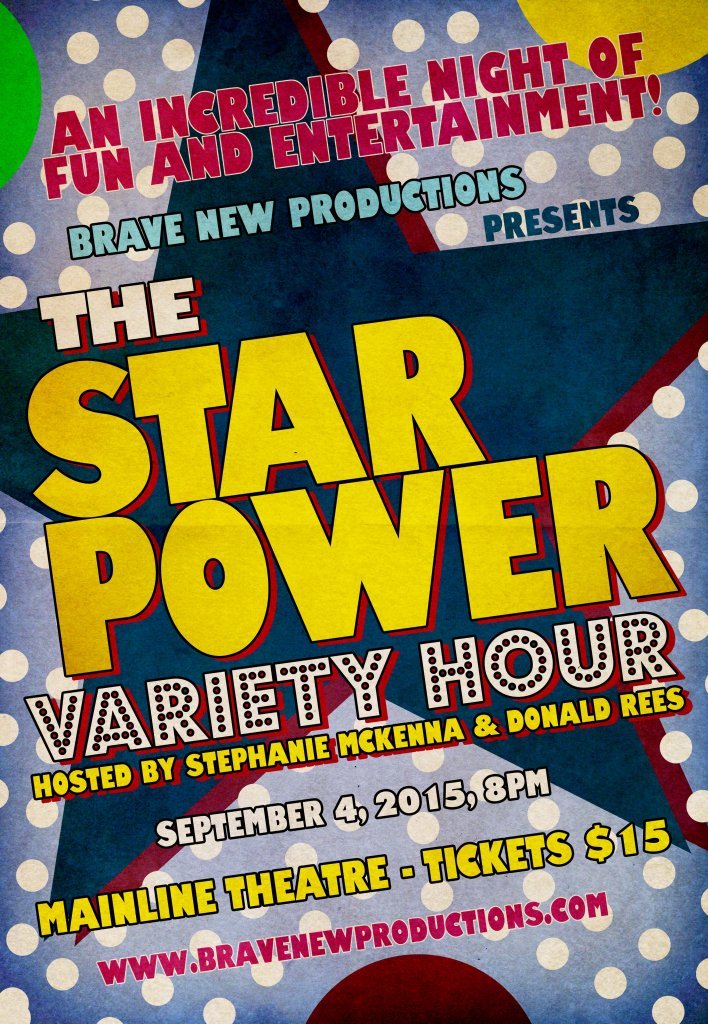 You never know what's coming next from Brave New Productions and that's never been more true than "The Star Power Variety Hour". I am incredibly excited to announce the full line-up of artists taking the stage for one night only this September 4th, 2015 – 8PM at Mainline Theatre (3997 Blvd St.Laurent).
Creating independent theatre is often an uphill battle, financially speaking.  At Brave New Productions our approach to fundraising has always been to offer something unique in exchange for your support. From comedy nights to working with local musicians for a benefit album, we have never been the company to just straight up ask for donations. Our latest production ("33 Variations") was a particularly ambitious project, so when Stephanie McKenna approached me with the idea for "The Star Power Variety Hour" I was eager to see what we could do to raise money and help the company look forward to its next production.
Our goal has been to create an old-time variety show and celebrate the diversity of performers and spectrum of entertainment Montreal is known for. When we reached out for acts, Stephanie and I had no idea the response would be so enthusiastic.
Take a look at the incredible line-up for the show:
Stella Starchild (Live Stage Art)
Maxine Segalowitz (Liza Minelli Impressionist)
Mike Carrozza (Comedian)
Brittney Canda (Singer)
Tali Bradley & Julie Dalrymple (Sketch Comedy)
Gabriel Gandier (Clown)
Holly Greco & Friends (Lip Sync)
Dayane Ntibarikure (Singer)
Christopher Masson (Poetry)
Lael Stellick (Dance)
WFIIA (Film Noire Improv)
Joy Ross Jones & Erin Hill (Puppetry)
Tamara Brown as Beneatha Mann (Singers)
Stephanie McKenna & Friends (Synchronized Swimming)
These incredible artists have volunteered their time and talent for this one of a kind night. Of course, expect the unexpected including unannounced performances and prizes. Every penny will go towards getting Brave New Productions geared up and ready to create new forms of entertainment in 2016.
---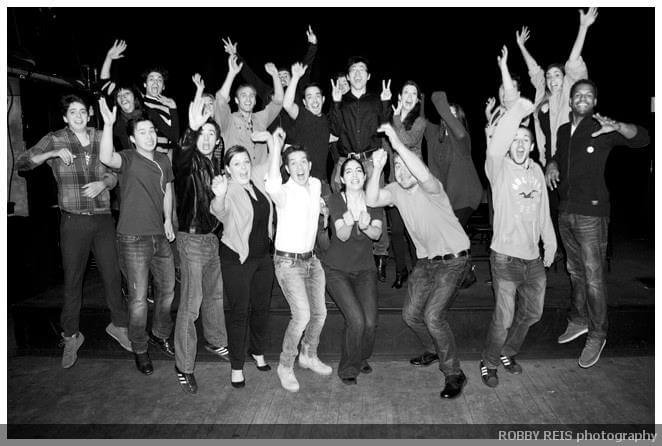 ---
My hope is that we will continue to work on exciting projects in the future. Through unique fundraising initiatives like "The Star Power Variety Hour", you help support the future of our productions and encourage us to continue creating opportunities for the incredible emerging artists in our community that we are so fortunate to work with.
-Donald Rees, Executive Director for Brave New Productions
Join the Facebook Party by clicking here.
Learn more about Brave New Productions by clicking here.
The Star Power Variety Hour
Friday, September 4th @ 8PM
Mainline Theatre (3997 Blvd St.Laurent)
Tickets: 15$ at the Door.