Headlining Comedy/Events This Weekend In Montreal
"A 1920s burlesque sophistiqué met a trio of stooges, a barrel-chested boylesquer and a gregarious Gatsby gal. They were such a WHOOP that she invited them to hop in the ol' breezer and take a drive to sin city…"
This Saturday February 22nd, The Wiggle Room (3874 Blvd. St. Laurent) presents: "Jugs N' Gents– A Jazz Age Jaunt" featuring none other than THEA d'ORA,  The Mansfield Brothers, James & The Giant Pasty, and last but not least Lucky Minx!
The show starts at 9:00 pm and you can RSVP @ www.brownpapertickets.com
Follow the Wiggle Room on Twitter
'Like' the Wiggle Room on Facebook
This Saturday Feb. 22nd the Mainline Theater (3997 boul. Saint-Laurent) presents "It's Saturday Fight Live" featuring Walter J. Lyng, Leighland Beckman, musical guest Chelsey Walsh, and starring Graham Cuthbertson. *PLUS: Celebrity chef Antonine Francoeur-Despres, who will regale all with a demonstration of culinary magnificence.*
Ticket price is $8 regular, $6 for students, and 2 for 1 for anyone wearing a fun hat. It's free for anyone who takes their shirt off, and supposedly if you show up with a painted portrait of Amy Blackmore somebody will pay you. (but don't take our word for it)
The show starts at 10:30 pm
Follow the Mainline Theater on Twitter
'Like' the Mainline Theater on Facebook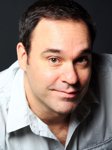 This Feb. 20th-22nd, Comedy Works will be having Andy Pitz make an appearance as the headlining act that evening. Andy has previously made appearances on  The Late Show with David Letterman and The Late Late Show with Craig Ferguson. Andy Pitz  is also a regular performer at all of New York City's top comedy clubs including Caroline's Dangerfield's Comic Strip Live and Gotham Comedy Club. He is also known to tour around the country, (when his wife allows it)
The times and ticket prices for each individual day vary and are as stated below:
"Thursday to Saturday: International Headliners.
Thursday– 8:30pm $10 and $5 for students with valid ID
Friday– 8:30 & 10h30 pm $15 and $10 for students with valid ID
Saturday– 8:30 & 10h30 pm $15"


This Feb. 20th-22nd The Comedy Nest presents female comedian Carmen Lynch who has done previous shows on "The Late Show with David Letterman" and "NBC's Last Comic Standing." Each night there will also be two other special guest's making an appearance alongside headlining act, Carmen, this includes appearances made by Dan Bingham, and Alie Hassan
Reserve your tickets now!
"SHOWTIMES & TICKET PRICES
(all prices include taxes)
Thursday– Feb 20, 8:00 • $12/$6 students
Friday– Feb 21, 8:00 • 10:30 show added! • $15/$10 students
Saturday, Feb 22, 8:00 & 10:30 • $15
CALL TO RESERVE: (514) 932-6378″
Follow The Comedy Nest on Twitter
'Like' the Comedy Nest on Facebook