MTL Sketch Fest Sunday 8pm Show: All Star Improv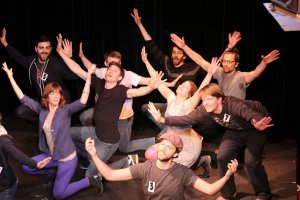 Wrapping up the Sketch Fest with Improv! "I don't get it," you might say. "What does improv have to do with sketches?" Improv is the part of sketch comedy that tests an actor's wit and talent like nothing else. You can throw anyone into improv but chances are if they don't have the goods they will crash and burn! These actors showed that they have what it takes to make this sourpuss LOL!
After the troupe, Josh Budman, Ryan Hildebrandt, Rena Hundert, Paul Naiman, Lea Rondot, Vance Gillis, Lise Vigneault, Stefan Peterson, Mark Louch, and Pete Stevens, was introduced, we learned just how interactive the night would be. One of the best/most awkward parts of the Improv show was that the audience got to vote for their favorite scenes. This would later be used as a rating system to eliminate actors from the show until only one is left. As if there wasn't enough pressure on the actors already just trying to incorporate themes, ideas, and not break the rules, they would spend the night fighting for the crowd's affection by being the funniest, and most creative.
One of the most expressive actors in the show was definitely Rena Hundert. She can really get into a character and become realistically hysterical. She brings herself to the verge of tears, and all we can do is laugh. I'm interested to see her in her upcoming one woman show.
Vance Gillis, an old acquaintance of mine, was surprisingly good. I always knew him as a talented writer, and actor, with a great sense of humor, but I never imagined he would be throwing himself so fearlessly into his roles as he did in this show. I have to say he was captivating, and I see him becoming one of the next V.I.P.s of improv.
My favorite line of the night was Lea Rondot's response to "You look like a Barbie doll." She answered, "Well that's not really a compliment at all." Love it! Though clearly Ryan Hildebrandt's Barbie doll comment was intended to express his character's adoration for her physical beauty, she was very right in stating that Barbie's proportions are so unrealistic that if she were a real person she would look like an alien.
In a game where two actors must look each other in the face and speak as one person, things started to get… cozy. As the two "Siamese twins" took their places, Sexual Healing was the appropriate musical intro to the most awkward date ever. The object is to make out what the other person is going to say as it's coming out of their mouth, and say it at the same time. While intensely concentrating the girls' faces were getting so that I was sure they were going to kiss, but I was wrong. Interestingly enough, later on in the show a couple of the boys did. That's just how dedicated they were to their comedy. I salute you boys.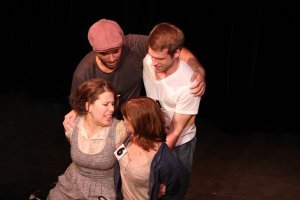 The ambiguous votes given by the audience bought the actors another round before any elimination would be done. When they finally got to the first cut I was sad that anyone had to be cut at all. Everyone on stage was talented, and they were all quick thinkers. I would say that those who were cut were not any less talented, but just happened to have had slightly less entertaining sketches on this night in question.
With that said, there were a few who stood out from the rest, including the nights champion Peter Stevens, not to be confused with Stefan Peterson, though they are both at the top of my fan-girl list. I had noted down early in the night that Peter was definitely a top performer, and he proved it in his solo scene at the end when he acted out/narrated an intense action movie scene. Not only did he play a variety of different characters by himself, jumping from one role to another line by line, but he also narrated all the invisible action going on that he visualized in his head, including sound effects.
Stefan Peterson showed that he too has this game by the balls. In one scene, where three brothers on a boat were to fight about money, he cut through the initial awkwardness, and laid out the perfect plot with a few well thought out sentences. The dialogue in that scene just seemed to unfold almost seamlessly leading the story into a full circle when one of the brothers who had been labelled earlier as a f*** up tried to be clever, only to f*** up and validate the label. The f*** up was most probably an unintentional oversight by the actor, that sailboats don't need gas to sail, and that's what made it so funny!
Josh Budman impressed me as well when he was asked to re-enact an episode of Teenage Mutant Ninja Turtles. One of my favorite childhood shows, I couldn't believe how much he remembered about the show to be able to let that scene just poor out of him while playing every character himself. My favorite part was that one of the Turtles spent the entire episode eating pizza. It was the perfect depiction of Michelangelo, and it touched my nostalgic little Grinch heart.
A great treat of the night was when they showed an episode of "The Conch", a mini web series created specifically for this years Sketch Fest, featuring the improve actors. This episode, "THE CONCH Chapter 4", was not only really violent and hysterical, but very well done. The production quality was great, and the fx for broken bones and other gross injuries was disgustingly realistic.
Check out the series
For more Improv: "Sunday Night Improv"
Theatre Sainte Catherine
264 Sainte Catherine Street East
Montreal, Quebec H2X 1L4
Sundays at 8PM
Admission $7.