Nikki Payne, Bryan Hatt and Kandi Abelson – Yuk Yuk's This Weekend
Ever heard of Nikki Payne? Until I saw her in person I hadn't made the connection. I've seen her on network TV several times and last night I was surprised to recognize her from previous TV performances, and she is totally hilarious. Her distinct voice is unmistakable. I did some fact checking, and she's won three Canadian Comedy Awards for Best Stand-up Newcomer and Best Female Stand-up (2003, 2005 & 2008), has appeared in Last Comic Standing, Video on Trial, and the NFB documentary The Next Big Thing. She has also appeared in the Canadian sketch comedy show Comedy Inc. to name a few her many career accolades. And she's Canadian, from Lower Sackville, Nova Scotia.
Bryan Hatt, who was middling for the show has a great pair of jeans and a funny story to tell you.  His personal style of self deprecating humor mixes well with his audience interaction. We all shared stories of sex outside, it was fascinating that the audience response was virtually 100% of people have done it somewhere other than inside four walls. Maybe that's just because it's Montreal? Regardless, the audience interaction was fantastic and the front row earned their laughs fair and square, adding themselves in an entertaining twist of comments and rebuttals from Hatt, with surprise answers to his very funny questions.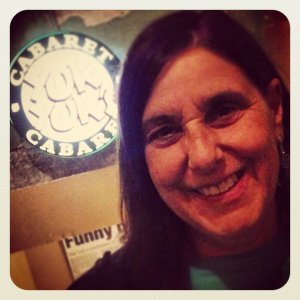 Kandi Abelson, now there's an enigma. She's lived and performed in L.A. for years, and now she's living in Tel Aviv. Hilarious and unexpected, she's got a raw truth to her style that provokes your funny bone to laughter with ease. My favorite quote from her set was, "Want to surprise me in bed at my age? Bring a leaf blower." And, a close second, "I was thinking of getting a tattoo to blend in with the kids nowadays, but something age appropriate – like a varicose vein. "
I don't care who you are, that's f**king funny… Check out Kandi on Google, she's got tons of great reviews and history of appearances too.
You can still catch Nikki Payne, Hatt and Abelson this weekend Friday Nov. 8th at 8:00pm, or tomorrow Saturday Nov. 9th for her final performance. Yuk Yuk's Montreal is located at the Rialto Theatre in Montreal's Mile-end. See Yuk Yuk's for details.