Ninja Burlesque
Last night was the opening show of Cherry Typhoon and her Ninja Burlesque. How exciting! Ninja and burlesque? Not something you see every day. During FRINGE it is! You can see it all this week at the Wiggle Room. I work at the venue on a regular basis and if you've never heard of it, it's a great show bar that brings you back to the speakeasy days of live entertainment and delicious cocktails.
There is a weekly burlesque show so I have a pretty good idea of what to expect. I was far off and I've seen Cherry Typhoon perform before but not with her gang of lovely ladies.
Lou on the Rocks, Odile and Izumi, 3 burlesque dancers trying to live free and be able to dance their passion:burlesque. This show is based on true experiences from Cherry Typhoon's real life and her struggles with being a burlesque dancer. Many think that burlesque is just some high end stripper but there is so much more to burlesque that just taking off your clothes. Its about getting the crowd excited, its about making every move count, from the way you move your hand and your eyes to the way you pull off your gloves and corset. It's all about timing and everything has a cue. It's also about the celebration of our curves ladies.
Marilyn Monroe and Raquel Welch were no twigs and yet, two beauty icons of their era. Embrace yourselves, not the magazines.
Like Raquel amd Monroe, these ladies are stunning, full of artistic background and much class. Odile did an amazing piece with music from Black Swan. I said to myself: How can you take such classy poised music and turn it into tasteful burlesque? You'll have to come see to find out. Very well executed. Her dancing and passion during her act was captivating.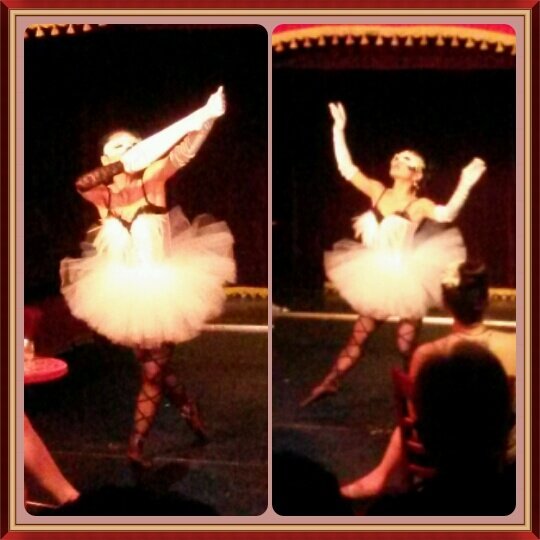 The costumes were detailed and adorned with sparkles and stones, the story was amusing and fun to watch & the talent is remarkable. I highly suggest this show to you Fringers.
In honour of the Fringe and its bee mascott, The Wiggle Room offers you the Fringe Cocktail AKA FringeBee (thats what I'm calling it) AKA Honey Jack Lemonade for 7$! Yum Yum!
Go to montrealfringe.ca for all your FRINGE needs and we'll see you soon
#mobit and #fringebuzz it!