Your Montreal Guide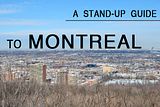 So for my first promo of the year, here's a woman whom I've always admired. I have the pleasure to work with her occasionally and you will have the pleasure to let her show dazzle you. Her company, In Theory Productions creates original and unique show concepts. Stand-up comedy with a twist. An awesome one.  At the Comedy Nest, Friday, January 18th, will be your chance  to see her newest one: A Stand-up Guide to Montreal.
Sasha Manoli is this woman, the master mind behind the scenes. From the Liar Liar Show to Dear Dave, her shows always do well and cater to a full room. Here are the messengers who will tell you the facts about our beautiful city, that falls apart once a year.
Not only are these comics straight out of MTL and know exactly what Montrealers have to deal with, they will make you laugh all night long with their different styles of humor and joke telling.
So how do you get to see this?!
Call 514-932-6378 for reservations. Want to be a true Montrealer and wait till the last minute? Then you can buy them at the door for 10$, if you're still in school then it's only 6$. Who says going to school sucks, huh?!
Want a better deal? Come out for the first show at the Comedy Nest to see headliner Eddie Della Siepe and stay for the second show for free! Two shows for 15$ you cannot go wrong!!!
Share this post and spread the word!
Take care
Jo