Jackalope 2015
There is one thing on my check list that I have always wanted to check that I have not yet done… be able to skate like a pro.  I got to take in that feeling at the Jackalope Festival this year. Like seriously these girls were killing it and wow getting back on their feet so fast after a hard fall. I do not have enough self power to do half of what they did  today, and especially  with the temperature we had ALL DAY.
Unfortunately I didn't get to see the guys competition that much but I did notice a little cutie bunny playing  in the big boys yard and he was like definitely at his place. Another thing that was really impressive was that guy walking like nothing on the slack line, the bmx show and honestly lots of other stuff.
I was quite surprise about how many free stuff it was possible to get in one place. ( Totally great for an event like this ) I mean seriously, my bag couldn't fit no more.  You know how sometimes you get like ridiculous stuff that doesn't even mean nothing in life, well that was not the case .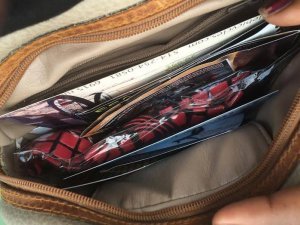 * For the curious people, I won 1 Free hour coupon for ISaute (big center of trampoline) + a t-shirt, a 2 for 1 indoor rock climbing coupon,  a all night pass from STM, a pair of grip socks  and got a customize Liza coke can.
Not only the free stuff made sense, the whole event was convenient  in any possible way. There was always a solution to your problem . The only thing that was totally ruining it was the weather.
You get tired  you can go relax on the  bean bags  and chillax with a freezee. You get hot well go take a dive in the pool , or the sauna or go with your haters on the water dunk. Oh now you are hungry ,  well there is many food trucks to satisfy any taste ( Oh yeah, they even  had a vegan one ) and to compliment your meal well there is FREE coke with your name on it, WHAT? That's right.
They had many activities for kids such as line board path, human ball protector for a game of soccer, pool in the beginning, Jacuzzi for all I guess,  STM obstacle course, mechanical surf ride and more. For us adult there was kinda like everything, beer EVERYWHERE, cocktails, fashion booth, bikes booth, instant pictures for you and your entourage and etc.
In conclusion, I will  definitely be going back next year and this time for the full festival. Do not want to miss a thing and you should do the same . ;P