Montreal in fashion !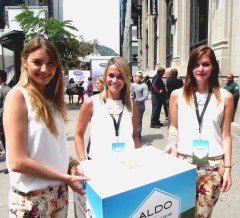 Fashion, fashion, … I had the wonderful opportunity to meet you today in Montreal. I saw you on several fronts and let me tell you that I fell in love, in CRAZY love . But hey, that's just a detail. Just arriving on the site of the events  that I am already rewarded by the Triplets of  Aldo. And yes, by dipping into their box they I won a 10% discount on my next purchase! Yeay!
See here, it's my friend Vivian. She's not use to make up but Charles-Edouard Bonaldo made her discover a whole new way of dressing her face. Even after a bunch of girls he was still doing an amazing job.Look at the smile on her face , hum … we all want to be seating on this chair , don't we ! It must have been a long day for him but as he was telling us , its what he likes to do so its like practice . Let me tell you that he's a really good professional make-up artist, so go girls go get your make-up on before it's too  late! Thank you College LaSalle for the training that you're giving to the next generation.
POP UP SHOP ! Oh , i think that am in love with this concept . Actually what i like the most is the great product that you can find at pop up shops . So as an example , here is Jaune & Noir . A new amazing discover of mine . What a coincidence that Vivian here is wearing a shirt from this kiosk   ! , Well see how she is rocking it? It could be you.
You know that clothes are  deadly nice when without even touching the rack you know that you might lose the content of your wallet if you look to close .  I was so happy when i found out  that Oldwig was attending the fashion week , i almost miss it but the rack of clothes called me !! Be ready guys cause the September 19th, 20th and the 21th is the Happening and sale of Old Wig . Trust me people you do not want to miss this special event, if you  love Vintage fashion , home decor , objects then you are an OldWig lover & you NEED to  attend this event !
Anyways , that was a quick resume of my AWESOME day !  I am certainly coming back tomorrow to continue my fun . Definetly something to got to !
http://www.festivalmodedesign.com/page-d-accueil/
http://www.collegelasalle.com/
https://www.facebook.com/OldWIGVintageLovers