A Powerful and Tragic True Story in "Angélique"
As Montrealers, we often think of slavery as something that happened somewhere else. We look across the border and frown while forgetting that our own city has set the stage for some very disturbing passages. "Angélique",  by Lorena Gale and now playing at The Segal, doesn't aim to be a history lesson. Instead, over the course of nearly two hours, the show focuses on dissecting the humanity within those that were born into or are privileged by their power versus those that do not have that luxury. This is what director Mike Payette felt drawn to in this story and it's a focus that is successfully, if not painfully, illustrated. From start to finish, "Angélique" is  a heavy show with few moments of brightness, but when light does shine through, it illustrates that dissection very effectively.
The Premise:
This is how history writes it: Marie-Josèphe Angélique; an enslaved Black woman in a Canadian history book. Angélique was sold and traded from master to master, yet her hope remained that she would one day taste freedom once again. In the summer of 1730, at the age of 20, Angélique arrived in the city of Montréal where the embers of hope, love, and the sensation of freedom were within her grasp. Those hopes, however, were met with the harsh reality of life as a Black slave in Nouvelle France. Few have spoken to the injustice that stoked the inextinguishable fire in her belly, and as Québecers and Canadians, we rarely speak of the real and forgotten story of Angélique and her lasting impact on our social and political landscape. This begs an important question: how much has the state's relationship to Black lives changed since it executed Angélique in the 18th century for a crime it had no proof she committed?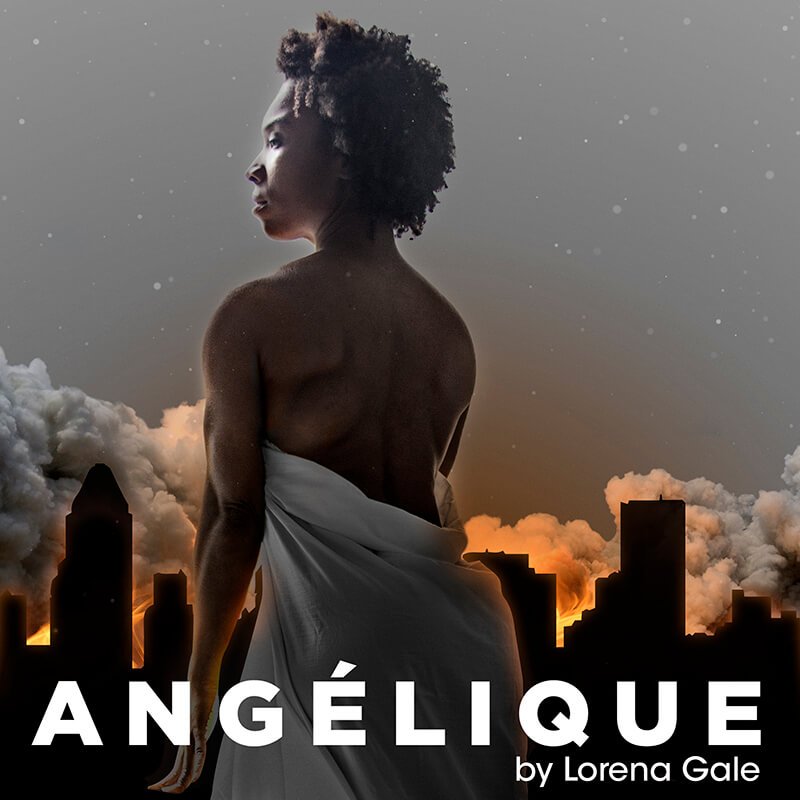 The direction by Mike Payette is absolutely superb. The show looks stunning. Creative, but useful forms of storytelling and staging keep the play engaging. There's little in the way of set but it's something you'll never think about.  What truly brings the show to life is the live music provided by SIXTRUM Percussion Ensemble. In "Angélique", music becomes a character, not only scoring the scenes but offering a thoughtful commentary on what's happening on stage. The interplay between musicians and actors is truly exciting to watch and is both original and passionately executed.
"Angélique" is theatre for audience members who are looking for a character driven story that reflects on a difficult subject matter. Some scenes are very intense and upsetting, true, but never needlessly so. It makes for an enriching evening out where you feel like you absorbed something substantive while having appreciated the skills of artistic masters at work.
Angélique
MARCH 16 – APRIL 2, 2017
The Studio, Segal Centre for the Performing Arts
5170 Chemin de la Côte Ste Catherine
For tickets contact the Box Office: 514.739.7944
To learn more about the production, visit www.blacktheatreworkshop.ca or www.tableaudhote.ca