Kanye West: Ego Maniac, or Respectable Artist?
I've got two words for you, people!
Kanye West.
Yeah, that's right… I said it! Whether you love him or despise him, it's no secret that this guy gets nearly as much negative media coverage as Toronto's mayor, Rob Ford (who am I kidding, he get's more) He is known for his outspoken opinions, and isn't afraid to confront anyone… that includes the paparazzi.  Whether you love him or you hate him, there is no doubt that without Kanye, the game would be missing something. He's a lyrical genius, an "asshole with a God complex",  musician, designer and film director.  After signing with Roca Fella records he dropped his first album "College Dropout" and since then has achieved worldwide success and fame. Fame can be a dangerous thing sometimes though, and who better to portray this than Kanye West.If you follow Kanye West, I'm sure you recall that golden moment in 2009 when he stole country singer Taylor Swift's moment when she won her award for best female artist at the MTV Music Video Awards. She barely got a word out before a rude (and likely intoxicated) Kanye West decided to crash her party,  snatching her microphone away, and exclaiming "I'm sorry, Imma let you finish… but Beyonce had one of the greatest music videos of all time! OF ALL TIME!" How embarrassing. I still remember the day it aired, and witnessing the look of horror cross Taylor Swift's face. "I was standing onstage, and I was really excited because I'd just won the award, and then I was really excited because Kanye West was onstage," she told People magazine. "And then I wasn't excited anymore after that."
The saddest part is that this is only one very small shining example of the many Kanye West controversies that have trended in the past (including that one time when he said that Bush didn't care about black people.) The rapper's relentless need to voice his opinions have often been followed by many public apologies and egoistic rants, with media exposure that people eat up like tootsie rolls.
Even though he's caught a lot of flack from the media, and I don't always agree with the way he handles some situations, I've been vibing to his music for at least 7 years now. Let's face it… the rap/hip-hop game has really changed in the last few years and the mainstream has kind of evolved into this weird fusion of hip-hop and pop together (and I could go on and on, but perhaps that is a rant better saved for another day) and considering that in itself, it's relatively easy to weed out the corny rappers as opposed to the ones who actually go hard on the track. In my humble opinion, Kanye West has maintained being true to his own style within his craft and also extended past that, delving into uncharted creative waters.
Something that I've always admired about Kanye West is his fearlessness with exploring new sounds and samples, as well as his consistency within his chart-topping albums. From "Graduation Day" to "808's and Heartbreaks," to his most recent masterpiece "Yeezus" (which is a bit more experimental and controversial) Kanye West knows what the fuck he's doing.  He may be a hot mess, but he's a calculated hot mess, and no exposure is bad exposure. Sure, he wants to be regarded as a God, and sure he believes that if there were a new age bible he would be included in it, and SURE that puts a lot of people off, but in all honesty… I think he might just be really misunderstood (then again aren't we all?) I truly believe that he love what he does and he is a real artist in his own respective rights.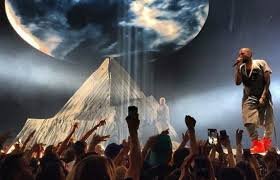 Yeezus (his 6th studio album) was released on June 18th 2013, and has since had a lot of mixed reviews. The Yeezus tour is the first solo tour that Kanye has done in roughly 5 years and I'm absolutely in love with the concept, personally. Pure, raw creative energy with less of the predictable mainstream flavor that you would normally expect from 'West. It won't be for everyone, but it's certainly different whilst maintaining Kanye West's cocky edge.
I'll be honest, the first time I heard it I sort of skimmed through it quickly and it didn't really resonate with me that much. It was the SECOND time around when I decided to give it another try and listened to it from start to finish and absolutely fell in love. It's one of those albums where you should listen to it with an open mind (or just get really stoned), and let his artistic influence sort of carry you. In all honesty, it's a really cool album.
My three favorite tracks from that album are "New Slaves" (seriously awesome and upbeat, sick flow, and he spits truth) opening up with the line "My Mama was raised in a era when/ clean water was only served to the fairer skin" (which fits well with the theme of black history month come to think of it) and "Blood on the Leaves" (more of a laid back song but I like it equally as much)
Getting back to the evolution of mainstream music and rap/hiphop, Kanye West expresses in an interview that the his main objective for the Yeezus tour and the album was to challenge the conventional typical shit that you hear him release and make an album solely based on his own creative works– and he did just that.
Kanye West is highly regarded for his sick beats and he certainly delivers on the album. I listened to it through and through with some really good headphones and fell in love. It's incredible… on the track "I Am A God" he managed to fuse the sound of someone screaming and combining it with the beat and actually made it work which blew me away. He is highly misunderstood. His God-complex is what makes the shit work for him and it sells.
To end this off on a high note, whether you love or loathe all that is Kanye West, he embodies a certain confidence that I think is easy to be intimidated by and therefore people react negatively, and we can debate about him until were blue in the face, but one thing IS for sure… Kanye ain't going NOWHERE!!!
–
Grace
photo source: http://www.clashmusic.com/live-review/the-big-chill-2011-kanye-west