Shooting The Moon – New Montreal Comedy Webseries
Shooting the Moon follows an aspiring filmmaker named Danielle, who relocates from her small Ontario town in the hopes of making a name for herself in Montréal's vibrant film industry. Danielle quickly discovers that becoming the next Xavier Dolan isn't as easy as she thought. The 7-episode web series is directed by Jeremy Sandor, and written by and starring Danielle Lapointe.

Shooting the Moon sets itself apart from a sea of shows about 20 somethings and the pursuit of happiness in more ways than one. Set in the distinct landscape of Montréal, Shooting the Moon manages to be both keenly observant as well as playfully unconventional.
Gone is the prototypical backdrop of New York City – a prevalent feature of female-driven comedies such as The Mindy Project, Girls, and Inside Amy Schumer – and in its place lies a playful parody version of the Montréal hipster arts community. The result is a series bursting with local humour and charm.
Perhaps the most unique aspect of Shooting the Moon is the fact that it avoids a formulaic approach to straight-forward narrative storytelling by morphing into other genres along the way. Although its story is grounded in the very real current climate of job-hungry generation Y-ers, Shooting the Moon teeters between reality and fantasy as Danielle's imagination transforms her daily life into scenarios drawn from iconic cinema and television shows. Each episode varies from the last, and while Danielle's story unfolds, her daily life transforms into everything from 90's television sitcoms to classic spaghetti western films.
Shooting the Moon came to life after Lapointe started jotting down funny incidents happening all around her in 2014, and soon had 7 episodes ready for production. Lapointe collaborated with producers Guillaume Collin, Dejan Pavlovic and Marion Duhaime-Morissette of Montréal production company Arpent Films to bring the series to life. Together, they set off on an ambitious 2-year journey to accomplish a 7-part series which features over a dozen locations filmed throughout Montréal and southern Ontario, 30 actors, as well as collaborating with local and international musicians, choreographers, dancers, animators, and artists. No small feat on a micro budget!
"Shooting the Moon is at its core a story about an outsider trying to fit in." says series creator Danielle Lapointe. Both Lapointe and series director Jeremy Sandor didn't grow up in Québec. Sandor, a native Torontonian, and Lapointe, originally from Peterborough, Ontario, met while studying filmmaking at Concordia University. "When I first read the script for the pilot episode, I laughed a lot. I loved that Danielle was taking these quirky moments that happen to all of us and bringing them to life in such a unique way." Says Sandor. "One of my favourite moments while shooting the series was when we were filming a scene where Danielle and her on-screen best friend walk down Notre Dame street at 2am, eating poutine. As the cameras were rolling, several passersby heckled us in both languages, asking what we were filming. It felt really Montréal. We all had a good laugh, ate some of the poutine and got back to shooting."
There is another reason why Lapointe felt like this story should be told. "It's essential to have more female protagonists", says Lapointe. "Women and girls look to film and television- and increasingly web- for role models, and to me there is nothing more powerful than women who are funny, and own their on-screen presence. I think we often confuse positive role models with perfect role models. These women are positive role models, but they are wonderfully imperfect. They are flawed, outspoken, and sometimes outrageous. In other words, they are human."
Shooting the Moon features an impressive cast of Montréal comediennes who inhabit the over-the-top version of the indie filmmaking milieu.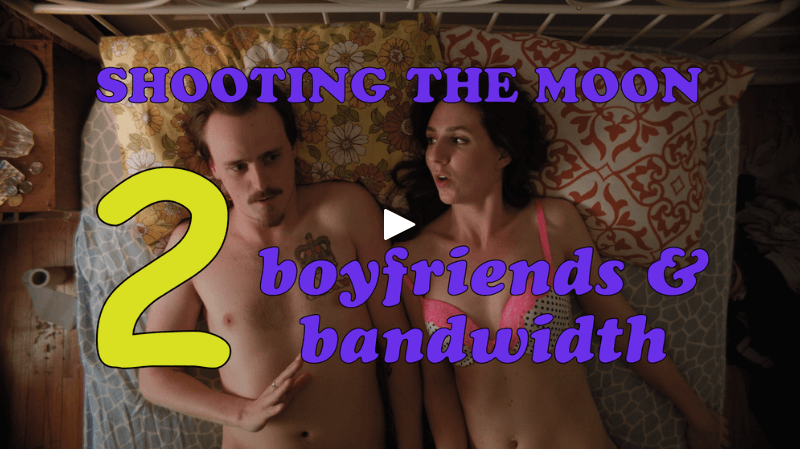 Stephanie Janusauskas (CBC's This Life) – plays Danielle's hilariously brazen movie theatre co-worker,
Nastassia Markiewicz (Gerontophilia, Freewind) –  plays Danielle's studious McGill roommate,
Kimberly Laferriere (Féminin/Féminin) – plays Danielle's free-spirited francophone best friend,
Isabelle Giroux (CBC's Salmigondis) embodies the high-powered Montreal film producer who orchestrates one of the most terrifying job interviews in on-screen history.
Other notable performances include Geraldine Doucet (acclaimed Montreal entertainer and host of CBC's The Geraldine Show), and accomplished theatre actress Kathleen McAuliffe (The First Winter, A Royal Scandal) playing Danielle's Nana and Mother, respectively.