The Segal Center For Performing Arts Present's : "The Laugh Pack Late Show" and kills it!
Hey this review is coming at you a little bit later than usual, I had to re-write it again due to some negligence on my end and some site problems, so I do apologize for that. Last Thursday I had the pleasure of visiting The Segal Center for the first time for the "Laugh Pack Late Show." The Segal Center is such an ideal place to host plays and shows in general because of it's multiple spaces, and it's massive size. I still haven't walked through the entire building yet, but I headed downstairs into a dimly lit, super cute bar area. They had some really funky white 'spinny' chairs there too that I really dug. As I awaited the show to start, I mingled with some of the guests and spoke with comedian Mike Carrozza's girlfriend (sorry ladies he's taken!) and she kept me company and sat beside me for the whole show. Not only was this venue freaking ah-mazing, the line-up of comedians had me pretty psyched to come and check out the show. Hosting on stage that night was the beautiful (I like to refer to her as the Kat Dennings look-alike) Holly Gauthier-Frankel (A.k.a Miss Sugar Puss) and Keith Waterfield, and also joining us that night was an incredible line-up of comedians Vlad Levitt, Andrew Searles, and Mike Carrozza.
Holly Gauthier-Frankel and Kevin Waterfield did a FABULOUS job hosting that night! They were both so sweet and endearing as they did the honors of introducing the amazing line-up that were in store for the night.
Just to start off, to say that I had a great time at this show would probably be an understatement. All of the jokes told that night were hits with little to no misses and if I had to pick a favorite I just don't think that it's plausible. The first comedian to take the stage was Vlad Levitt. Out of all the comedians present that night, it was my first time watching Vlad perform a set. Right off the bat, his persona exuded an unmistakable sense of self-assurance, and conviction.  As the first act of the night, I think he kicked the show off rather nicely. His jokes were very well executed and funny as hell… I thoroughly enjoyed him and I'm sure this won't be the last time we cross paths.
The next comic was Andrew Searles, a Montreal humorist that I have had the honor of getting to know on a more friendly basis. I can totally vouch for the fact that he is just as magnetic and charming in person as he is when he's on stage based on first-hand experience. It's no wonder why Andrew Searles is in such high demand in Montreal's comedy scene, his delivery and timing are perfect and his high energy keeps you engaged and hanging off of his every word, which I feel is entirely crucial when it comes to making people laugh, and not losing them half way through the joke. His jokes are funny, and easy to relate to. He has no problem with poking a little fun at himself for the sake of the audience. A comedian that doesn't take himself too seriously, makes a great comic IMHO. Andrew Searles aims to please, ladies and gents so if you're ever in search of laughs, definitely check him out! He doesn't disappoint!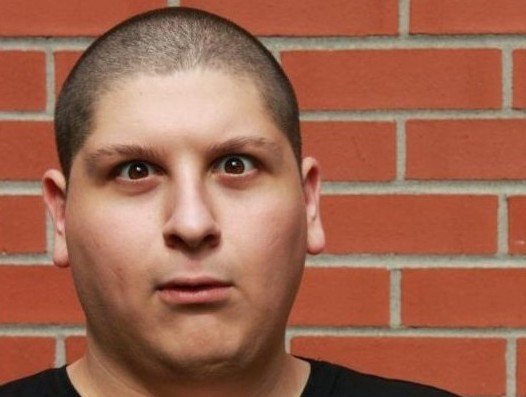 Ah, and last but most certainly not least, Mike Carrozza! So where do I start? For those that have never seen him perform stand-up, the best way I can describe his humor is (and I know he's going to get mad at me because I'm not the first person to point this out) but if Michael Cera and Jonah Hill had a lovechild, it would totally be Mike Carrozza (I'm talking strictly humor wise, not looks folks) but in all honesty, this guy is going places. He has UNDENIABLE star quality and a HE-UGE personality that instantly draws people to him.  Mike Carrozza is a comedy force to be reckoned with. He banged out 30 minutes of solid, humorous material that night without batting an eye. A smile found it's way across my face and ceased to leave. Mike Carrozza is a true performer, and an extremely gifted comedian. Oh, and even though I have seen his "Ghost Dick" bit twice now, I still laugh just as hard every time!
Okay so overall I think it's safe to say that this was a really awesome show. Shout out to all of the people that came together to make this show possible! I look forward to seeing what future events are in store.
For more upcoming happenings at The Segal Center for Permorning Arts, you can visit their official website here.
'Like' The Segal Center on Facebook
'Follow' The Segal Center on Twitter
Check  out The Segal Center on Youtube
Cheers to great comedy! XO
–
Grace (Yung Gun)