After weekends: Bofinger's restaurant & Chez Boris Cafe!
Another Monday in Montreal as people near and far are back to business again as we enter another week. Allow this post to take your mind off the usual work-related banter, because I'm about to tell you about two amazing places in my neighborhood that you should DEFINITELY check out if you haven't already before.I'm still getting used to Montreal's metro system, so as far as going on a personal excursion around Montreal alone goes, I haven't gotten to that point yet… in fact, I've hardly ventured outside of my neighborhood (Mile-End) alone. Yeah, laugh all you want. Maybe this is indicative of my cautious and careful nature but I assure you, adventure and adrenaline have always been the gasoline to my fire, so to speak.
This weekend I discovered two gems! The first is Chez Boris, an amazing little indie cafe with free Wifi! So awesome. This is the perfect space to start your workday. Fresh donuts, and deliciously cheap lattes and tea are their specialty. Chez Boris has a really relaxing vibe, as the soothing music in the background lulls you into a relaxing trance, this is definitely a fitting place to get lost in your own little world and forget about reality for awhile. I enjoy going there to blog and drink my coffee. Expect to see tons of hipsters typing away on their pretentious looking Macs. If you're getting tired of your usual Starbucks and Timmie's then I suggest you take the time to check out Chez Boris and stop by for a cup o' Joe!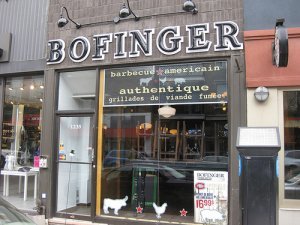 The second gem I discovered was Bofinger's! No doubt you've heard of this place if you're a Montreal-er (and if you haven't, I'm here to inform you about what you're missing out on!) Bofinger's has to be, in my opinion, one of the best restaurants that I have ever grabbed takeout food from! I actually went twice. They have really good portion sizes there… they best way I can describe the food is "soul food" or comfort food… very hearty burgers and dishes. Even writing about it now is making me hungry! Go and check out Bofinger's! You'll be glad you did.
Both these places are fantastic! I encourage you, the reader, to have the Chez Boris & Bofinger experiences when you get the chance, because I assure you neither one will disappoint. Also, if you are an owner of a particular venue and are interested in having me write a review or promote said venue, I am open to come and check it out!
You can contact me on my e-mail address: contactgraceshaw@gmail.com
–
Grace