Zoofest & OFF-JFL Together At Last!
Finally, OFF-JFL and Zoofest are now one !!! For those who were already used to go to OFF-JFL shows, you'll be happy to know that a few perks come with this association!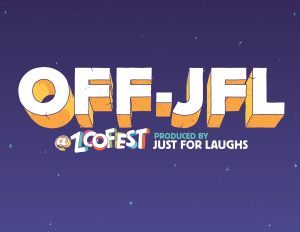 First, having both Zoofest and Off-JFL combined means to use our passes for both french and English shows and also we get to reserved tickets in advance for both Festivals. The result: a more equally bilingual Festival! The english program is now more complete compared to what it used to be, which was over 10 days.
Affordable and different types for the passes are available this year,. They are now called ZOØFF (a Zoofest & Off-JFL word combo… get it?) and are now available in Regular, Super and Ultra ZOØFF!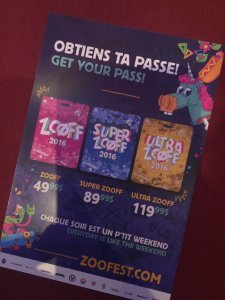 A lot of interesting names for the solo shows this year. On the OFF-JFL side Tom Green, Jeaneane Garofalo and  Mary Lynn Ras, Piff the Magic Dragon, Beth Stelling, Cameron Esposito and Emo Philiips for stand ups.  Alan Carr, directly from the U.K will be performing Yap Yap Yap for the first time in Canada. You should check out the Off-JFL program here .
Several upcoming concept shows are part of the OFF-JFL program such as:
And of course the Multi-Comic Shows:
What's new on the Zoofest side? This year we can enjoy associations such as a football game between Les Alouettes de Montréal vs. The Roughriders combine with a Jay Du Temple show as a one evening package on July 29th for more info:  Alouettes/Jay du Temple.  M pour Montréal and the Festival de musique émergente de Rouyn-Noranda brings some tunes to Zoofest with M pour Minuit and M ton Zoo. Those who love surprises a series of secret shows called Concerts impromtus presented by FME,  will be revealed with just an hour of notice.
We should also be on the look out for Mange ma yeule, a production all the way from Latvia, will be present for the first time in North America a Quebecer version of Ed Savu Muti. Not to forget Kyan Khojandi and his friends form the popular french webseries Bref. are preparing a new show specially for Zoofest for the international program.
Back by popular demand:
Looking for a place to chill in between all those shows? Go hang out at the Spot Zoofest which a brand new beer garden with free outdoor programing from July 16 to 30 2016.
There you have it!  Zoofest & OFF-JFL 2016 all broke down for you! Are you ready for 200 international artists, 150 shows, 600 performances? It's all happening from July 7 to 30 2016! For more info : www.zoofest.com