The Cinéclub/Film Society presents: WINGS
Tickets available here as of April 20.
WINGS + live musicians!
 Saturday, May 20th, 7:30pm  @ W.P. United Church                                                        
(1927, U.S., 144 min, 16 mm, English intertitles) William Wellman
This first-ever Oscar winner for 'Best Picture' is an exciting action-adventure spectacle with a romantic drama storyline. It stars some of the most popular actors of the 1920s including the legendary Clara Bow, dubbed by Hollywood as the 'It' girl. (Whatever 'It' was, she definitely had plenty!) Her big eyes, cute round face and innocent charms made her a key part of the story's love triangle. Appearing in a small but memorable role is Gary Cooper who later went onto movie super-stardom.
Like our previous presentations of such silent epics as INTOLERANCE (1916) or THIEF OF BAGDAD (1924), WINGS will at times have you gasping in awe and on the edge of your seat, especially over the perilous biplane action in the skies. Never before had (such dangerous!) aerial sequences been done so brilliantly, setting standards for future films of its type. To this day, the drama and magic of some of the shots have never been equaled (not even with the aid of computer-generated images.)
What better way to experience it than as 'reel' film projected onto a large movie screen while live musicians accompany all the action. Our talented line-up includes artists on piano, string, percussion and sound effects created live. All of this takes place in a stunning old gothic church which only adds to the experience. Our previous screenings there have been hugely popular so please arrive early.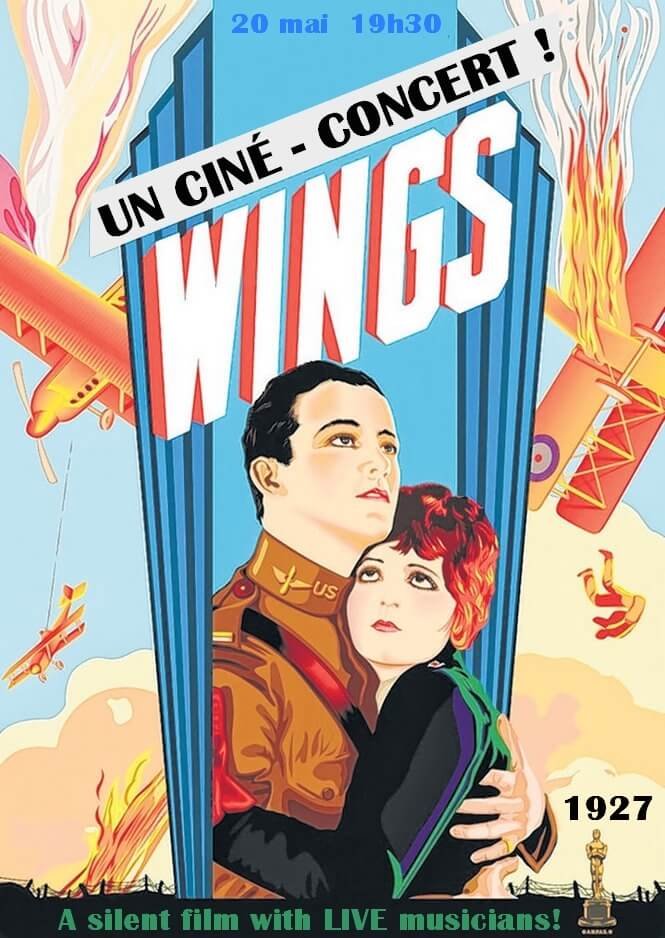 Doors open at
6:30pm at the 

W.P. United Church, 4695 de Maisonneuve O. (Vendôme metro)
$15, $10 (students, 65+) at the door (cash only) or on-line from
April 20th

: www.tickets.themobspress.com
Snacks, popcorn and drinks available.