Montreal Indie Comedy: About Last Week
Comedy is back in a real way in Montreal this summer! During my week-long stay, I had the opportunity to sample a great cross-section of stand-up shows (I'm still in euphoric shock as I write this). One thing is for sure, independent comedy is always a great way to see some heavy-hitting headliners in exclusive and intimate venues.
The buzz of a Friday night on Crescent Street was palpable, and surreal. With the street closed to cars, pedestrians happily laughed and mingled their way down the street. I made my way through the dimly lit pub-maze that is Hurley's Irish Pub, to the cozy, stone walled back patio.
Mob Boss Jo and I grabbed a high top table near the back, a pitcher of Sangria, and a poutine so good that I almost cried! Perfect Bite Productions (Walter J Lyng, Chris Venditto, and Reese Turner) really brought their A game for this 6pm show, with Derek Seguin as the headlining act and hosted by Walter J Lyng. Co-Producer of Hurley's "Smallest Open Mic" Vance Michel took the stage too and gave us some sex talk realness, testing the limits of the audience and then reeling us in! The references to the "eggplant emoji" in Chris Venditto's stories about his mother's dating life had me laughing out loud. Reese Turner yelled "Where's the roof!" up to the sky after confessing that he had eaten magic mushrooms, and the audience definitely went on a journey with him.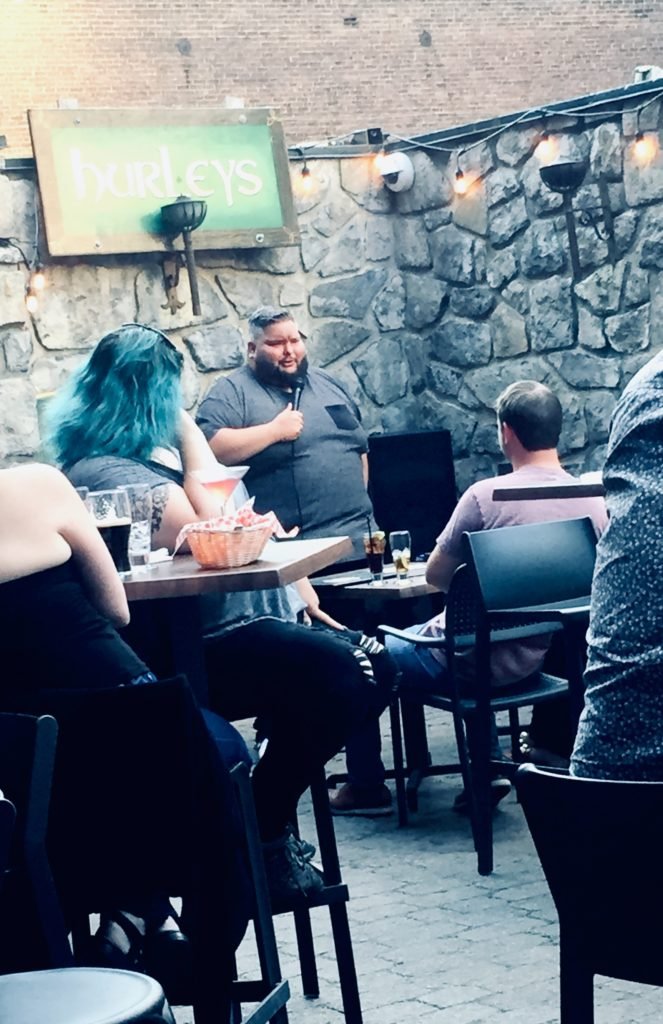 Derek Seguin did the thing that Derek does, and lit the patio ablaze…with words this time! There were two older ladies in the audience that tried very hard to keep it together during the entirety of the show, but became a total puddle of laughing tears, covering their faces with their hands as they came completely undone. And then of course, I'm laughing at them, laughing at him!
At the end of his set, Derek thanked the audience, and said "This is like my 10th live show since comedy returned, and I really feel like I'm back now!"
Wow was it special to be there for that explosive show, on a warm summer night in downtown Montreal.
Fast forward to Sunday night's Comedy Confessional show at McKibbins Irish Pub (on Bishop Street) produced by local comedians Ben Cardilli and Michelle Dominique. The top floor of the pub (The Toucan) used to have some of the craziest club nights in the city, and I may or may not have sung drunken karaoke there in my younger years.
The show was hosted by Darren Henwood and closed out by surprise drop in guest Dave Merheje! Every table in the room was filled and the comics hung out in the back booth, ready to take the stage at a moment's notice. Darren got the energy flowing in the room, instructing us into a literal wave of laughter (from the left side of the room, to the right) as he kicked off the show. Akeem Hoyte-Charles kept the energy in the room building, and had a likable demeanor. Daniel Carin is always a pleasure to watch, with smart and quick witted writing, and the range of facial expressions to go with it! Carly Baker dropped some life truths about being a mom with a contagious smile and hilarious impersonation of a twenty-something-year-old (complete with the hair flip).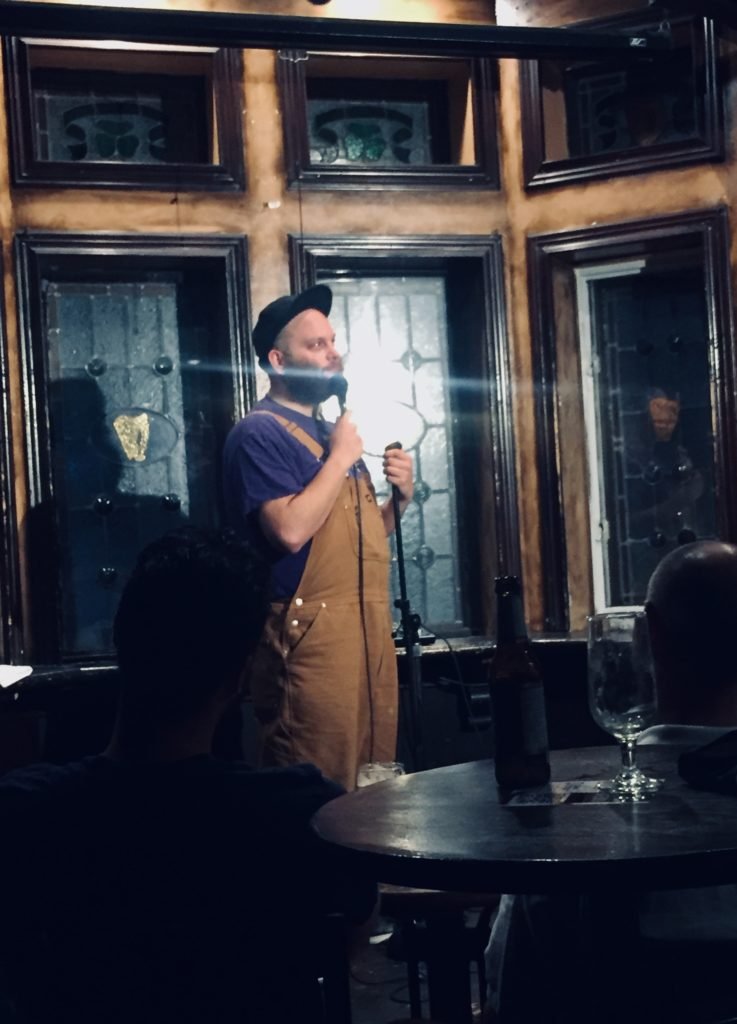 Quinn McMorrow laid down some anti-vaxxer commentary on the pandemic and newbie Ben Muir shared his passion for vision boards and manifesting. Reese Turner called back to the vision board while slapping his hand on the back wall and then slid into an animated recount of an experience at Dairy Queen. The penultimate act Oren Shbiro gave us some explicit sex life imagery involving a cow…I will not elaborate.
It was great to see Dave Merheje, who is in Montreal for the Just For Laughs Festival. As someone who has also been working very hard on my mental health, I appreciated Dave sharing his own mental health vulnerabilities with us. The volume in the room went from an 8 to a 10 on the audience-o-meter during his set!
From the venues, to the artists, to the energetic connection of audiences filled with friends, family, and familiar faces, independent comedy creates joy and unites us all in laughter. With shows coming back, I encourage you, in what ever city you are in…go watch comedy! Your mental health will thank you for it!